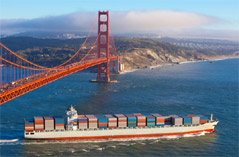 In 2012, Pacific Ocean carriers negotiated with their eastbound trans-Pacific trade customers, with the objective of gaining increases from the low rates they charged to beneficial cargo owners (in-house cargo controllers) in service contracts. Their gains turned out to be minimal. In 2013, ocean cargo carriers will once again attempt make up for losses by charging higher rates to non-vessel-operating common carriers, (smaller cargo consolidation companies).
Sustainable Profitability for Pacific Ocean Cargo Carriers
This backfired on some levels because when carriers adopted general rate increases (GRIs) and surcharges, many beneficial cargo owners were exempt from these increases due to contractual "no-GRI" clauses, so the higher rates were instead passed along to non-vessel-operating common carriers and smaller beneficial cargo owners.
As a result, many non-vessel-operating common carriers and smaller ocean shippers were forced to pay up to as much as $1,000 per FEU more than beneficial cargo owners did, which generally creates an unsustainable gap in the trade community and is widely considered an overall bad business model.
In addition, an expected 5-7% increase in Pacific carrier capacity in mid- to late-2013 diminishes the ability for ocean carriers to further increase rates for non-vessel-operating common carriers this year.
Another consideration is all-water services from Asia to the East Coast, where an important decision comes into play:
Ocean shipping lines cannot sustain profitability on these services solely through the preferred Panama Canal route, (which shortens transit times), due to the Canal's vessel size limitations.
The alternative Suez Canal route is favorable as a solution to this problem, but the problem then becomes how successful ocean carriers can fill the larger vessels that navigate the Suez Canal at a slower pace.
Ocean carriers are charging rather high rates on intermodal shipping services through West Coast ports to inland destinations, but that doesn't necessarily equate to sustainable profit margins on those services either. It only means the railroads are getting good intermodal rates on the intermodal portion of the move from the West Coast to the inland destinations. Pacer Distribution, a logistics provider, reports that continued growth in transloading on the West Coast by smaller and medium-sized shippers is growing at a steady pace.
Non-vessel-operating common carriers are adjusting to the environment in the trans-Pacific by committing more of their cargo volume to service contracts and holding less of their volume back to play in the spot market.
Reducing carrier base and make higher-volume commitments to contracted carriers is helping to narrow the gap between what non-vessel-operating common carriers and beneficial cargo owners are paying.
This balancing act will dictate the strategies that ocean cargo carriers must adopt in order to maintain profitability and sustainable business models. The current environment of declining spot rates is simply not a positive one for ocean carriers.
Ocean carriers are unlikely to continue their current practice of negotiating service contracts in the major east-west trade when new capacity significantly exceeds growth in container volume. It is anticipated that as US and European economies begin to experience steady growth, a satisfactory equilibrium could be reached by the years 2014/2015.
For more details and information on this topic, visit the Journal of Commerce website.
At ETC International, our Pacific Ocean shipping network has been serving companies in need of commercial and industrial overseas cargo transport, both domestic and internationally, since 1984. With nearly 30 years experience in ocean freight shipping, we have an expert understanding of all the ins-and-outs of commercial shipping. As a result, we are able to provide invaluable information to our commercial clients to help them make the most of their shipping dollars. We possess the know-how, so you don't have to.
We are happy to provide a no-cost, hassle-free rate quote on Pacific Ocean cargo shipping for manufacturers, retailers and wholesalers. We appreciate the opportunity to further discuss considerations of the shipping process for your business or comrporation.