Importers, file your ISF 10+2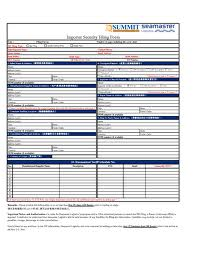 Importer Security filing (ISF 10+2) is a mandatory U.S. Customs and Dept. of Homeland Security sponsored program that all importers to the United States must adhere to when shipping goods into the USA. ISF 10+2 informs U.S. Customs of all details of your import shipment before it arrives within the borders of the USA. This program is mandatory for all inbound ocean shipments to the United States.
We are a licensed customs broker and import logistics service provider with the expertise and authority to file ISF on your behalf and clear your goods quickly through customs in one seamless transaction. By filing your ISF 10+2 with us, you also have the advantage of expediting your goods quickly, and have them delivered to their final destination within the USA. We handle all phases of the ISF filing and importing process on your behalf, leaving your freight in capable hands and your business 100% compliant with U.S. Customs rules and regulations.
File today and take advantage of our other expert logistics service offerings for importers to the USA! Apply Now!
ISF Filing is mandatory for all ocean shipments inbound to U.S. Ports! ALERT! On July 9, 2013 CBP will begin full enforcement of ISF, and will start issuing liquidated damages against ISF importers and carriers for ISF non-compliance. Avoid these penalties at all costs and file ISF with us today!! 
Import Security Filing (ISF) Holds in Customs Broker Protection CBP's LA/Long Beach Ports
When ISF enforcement began in July, CBP in Los Angeles took a measured approach in placing holds on cargo that did not have an ISF on file 24 hours prior to delivery. Their goal was to bring more shipments into a higher compliance level. The approach has succeeded
in a 50% reduction in the number of shipments arriving without an ISF on file. Recently, the L.A. Customs Brokers and Freight Forwarders Association (LACBFFA) distributed an announcement that   CBP's Los Angeles/Long Beach offices will be stepping up their enforcement rules effective October 7. They have started to place holds on all cargo where there is no ISF on file48 hours prior to arrival of the vessel.  They will also begin putting holds on consolidated shipments when at least one house of lading has no ISF on file.  
The following procedures for the hold on consolidated containers are: CBP will place a "2O" hold at the house bill of lading level.  Placing the hold at this level will hold the container at the terminal.  When the consolidator/NVOCC transmits the electronic Permit to Transfer (PTT), they will learn about the hold. When CBP sees the electronic PTT, they will override the ISF hold with a "1W" authorization to transfer the goods to the Consolidated Freight Station (CFS).   Before the "1W" is authorized, CBP will send a manual notice to the CFS placing a hold on the offending house bill(s) of lading.  If a paper PTT is submitted, CBP will follow the same procedure before processing the PTT request. CBP will remove the hold  only after they have issued the manual hold to the CFS and the CFS acknowledges the hold order.
The CFS will be allowed to unload the container to breakdown the consolidation. All house bills of lading that have an ISF on file will be allowed to be processed for release under current  processes.  For a held shipment, once an ISF is on file for the shipment CBP will decide if they want to exam the cargo. They will also decide if they want to perform the exam at the CFS of if they will require it to move to a Centralized Exam Site. CBP manually checks the ISF status for shipments for which they have placed a "2O" hold. They are not done immediately once the ISF is matched to the shipment.  It may take more than a day.  
The above processes are temporary for operations in Los Angeles as CBP in the Port continues its measured approach to ISF enforcement and they will change as CBP determines its next step toward full ISF enforcement.
The best way to avoid costly inspections, examinations or liquidated damages is to ensure that ocean cargo is shipped with a timely, complete and accurate ISF and bond to secure the obligation for release of cargo and subsequent entry. 
ETC International Freight System (1-800-4383-31576) will endeavor to keep you advised of any updates from CBP on ISF Enforcement.  Please view our ISF archives  www.avalonrisk.com/isf.html and CBP ISF  website at or send any technical ISF questions to security_filing_general@cbp.dhs.gov. 
At this point in time, each importer must be aware of the importance of a timely filing & if you have a shipment now on the water without the ISF, contact sales@etcintl1.wpengine.com
to find a solution to this expensive oversight. (www.etcinternational.com)