U.S. Imports from China in Decline? Not Quite.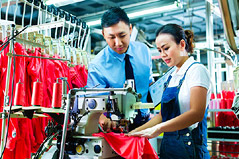 China, while still the undisputed leader in supplying apparel, footwear and furniture to the U.S., is seeing its market dominance diminish because of annual double-digit wage increases in those industries.
Meanwhile, low-wage countries in Southeast Asia and Latin America are steadily increasing their share of U.S. apparel, footwear and furniture imports, according to a report released Tuesday by PIERS, a sister company of
The Journal of Commerce."China's strength in labor-intensive export manufacturing is waning as factory wages rise at a double-digit pace and labor shortages deepen. A rising yuan does not help the situation either," said Mario Moreno, JOC staff economist.
Moreno emphasized that China has such a commanding lead in these labor-intensive industries that it will take many years before it loses its top spot. At the same time, "it is becoming highly clear that a new trend is developing in the sourcing shares of these labor-intensive goods," he said.
Furthermore, a loss of market share does not necessarily mean China's exports to the U.S. are declining. In the apparel sector, for example:
U.S. imports from China in constant dollars increased 7 percent in 2011. However,
U.S. imports from Vietnam and Cambodia increased 13 percent and 18 percent, respectively.
Even in volume terms, which discounts the effect of inflation and exchange rates, the trend of U.S. apparel imports from Vietnam, Cambodia and El Salvador increasing faster than from China is evident, according to the PIERS report.
China is the largest source of footwear in the U.S., accounting for 72.6 percent of imports in 2012. However, its market share is down from 76.1 percent in 2010. Vietnam, Indonesia and Mexico, meanwhile, have increased their U.S. market shares. Modest gains were seen for India, Cambodia, Bangladesh and Nicaragua, according to the report.
"By volume, containerized shipments from China were down 1 percent and 18 percent in 2011 and 2012 year-to-date, respectively, while shipments from Vietnam were up 14 percent and 2 percent in those same years, respectively," Moreno stated.
China is the largest shipper of furniture to the U.S., but its share has declined to 51 percent in 2012 from 52.8 percent in 2010. Furniture imports picked up last year with the improving housing economy, but while imports from China through September were up 9 percent, imports from Mexico, Vietnam and India were up by double-digit rates in dollar terms.
From 2001 to 2011, furniture imports from Vietnam expanded at a compound annual growth rate of 62.7 percent, the highest growth rate among developing economies.
The PIERS report also examines the effects of China's rapidly increasing wage rates and the much slower growth in wage rates in Southeast Asia and Latin America. The gap between wage rates in China and those other developing countries has narrowed considerably the past few years.
If you have insights to offer on this topic, get in on the conversation — we welcome your predictions on where the U.S. Import Market will go from here.
International Trade News›Trade Data›United States
Economy Watch›World Economy News