ETC International Freight System
Global Logistics, International Shipping, Freight Forwarders in California, Overseas Shipping, Air Ocean.
Below a JOC reporting
At YRC, the Profit Is in the Details
William B. Cassidy, Senior Editor | Feb 08, 2013 3:19PM EST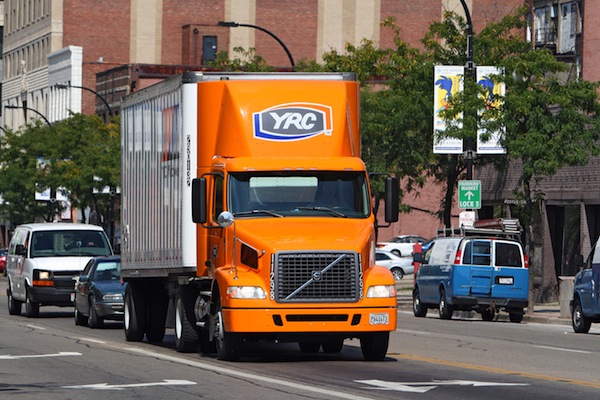 Close attention to detail such as shipment mix and safety costs helped deliver a $24.1 million annual operating profit for YRC Worldwide, the trucking operator's first full-year operating profit since 2006.
The $4.9 billion less-than-truckload holding company still suffered a $136.5 million net loss for 2012, but that was much reduced from a $354.4 million net loss in 2011 and a $327.8 million net loss in 2010.
YRC's total revenue was less than 1 percent below 2011, but did not include revenue from its former truckload business, YRC Glen Moore, a $99 million company, or about $10 million in other revenue.
The $24.1 million operating profit for the year, and a $30 million operating profit for the fourth quarter, show long-term management and operational changes launched in 2011 are proving effective.
The company's recovery, CEO James Welch said, "is still very much a work in progress," with long-haul LTL carrier YRC Freight beginning to show a profit and YRC regional carriers firmly in the black.
"The focus has to be on continuing to execute, execute, execute," Welch said in an interview Feb. 8. "We've eliminated so many distractions over the past year that we've made a lot of progress.
For example, YRC Freight, which reported a $2.8 million profit in the third quarter, its first quarterly operating profit since 2008, expanded that profit to $21.1 million in the fourth quarter.
That profit jumped despite a 3.4 percent drop in operating revenue to $777.2 million in a quarter when business was "OK, not great," as the election and fiscal cliff spurred anxieties, according to Welch.
YRC Freight is benefiting from a broad LTL network reorganization the carrier undertook last spring, reducing shipment handling at terminals and speeding origin-to-destination transit times.
"The management team has been very focused on efficiency," Welch said. "Bringing Maynard Skarka back (as chief operations officer at YRC Freight in September) was a good move."
For the full year, YRC Freight reported a $37.3 million operating loss on flat revenue of $3.21 billion, a 2.5 percent drop in daily tonnage and a 3.1 percent increase in yield. In 2011, YRC Freight had an $88.5 million loss.
The carrier made "nice progress" in improving loading dock productivity, city pickup and delivery operations and hostling, moving freight and equipment within terminals and freight yards, he said.
"The other thing that really helped is the safety effort," Welch said. Over the past year, YRC Freight has focused on improving safety at its facilities, an effort that can deliver serious savings.
Following the merger of Yellow and Roadway in 2009, "the new company had a rash of workers compensation claims. The cost impact on employees and the company "is huge," Welch said.
In 2012, the company had the lowest number of claims on record since 2000, and it continued to settle and pay down claims filed in YRC's "darkest days," Welch said, cutting liability and credit costs.
"We've got a full-court press going" on employee safety at the terminal level, he said. "Our employees have embraced this. We sometimes forget the trucking business is a dangerous business.
"We had $150 million in workers compensation claims expenses in 2012 and 2011," he said. "If we can get that down to $70 (million) or $80 million, it would make a big difference in how this company looks."
YRC Freight is also working to improve its customer and freight mix — weeding out less profitable freight and improving pricing. That's "still very much a work in progress," Welch said.
Although the long-haul carrier's total tonnage per day declined 5.5 percent and shipments per day 5.4 percent in the fourth quarter, LTL yield rose 3.2 percent and revenue per shipment 3.1 percent.
That increase in yield, which includes fuel surcharges, indicates YRC Freight made or kept pricing gains despite hauling less freight than in the 2011 fourth quarter, which was a stronger period.
"The pricing environment in 2012 continued to be rational," Welch said. "If the economy would pick up and capacity would shrink, pricing could even be a little better" in 2013, he said.
YRC Worldwide's regional carriers — Holland, New Penn and Reddaway — drove deeper into the black in the fourth quarter and 2012, more than doubling their annual profit to $70 million.
The regional group increased its annual revenue 5.6 percent to $1.64 billion. The group's fourth quarter profit increased 21.7 percent to $8.4 million on a 2.5 percent rise in revenue to $391.4 million.
Overall, YRC Worldwide's liquidity increased $14 million over the fourth quarter to $251 million at the end of 2012, nearly its highest level in the past four years, according to the company.
The company still faces some extraordinary cost pressures. While YRC Worldwide cut operating expenses across the board in 2012, it still carries more than $1.3 billion in long-term debt.
YRC Worldwide also ended 2012 with $548.8 million in obligations to its pension and retirement plans, including $125.8 million in deferred contributions to Teamsters multi-employer pensions.
"YRC has about two years left on a lot of the concessions they received," which expire with the Teamsters contract in 2015, said Brad Delco, an analyst with investment research firm Stephens.
"I tip my hat to that management team, they've done a tremendous job," he said, "but they need to continue to show improvements. They're still in the early stages of the turnaround process."
The company will save some money this year by leasing rather than purchasing new equipment, Welch said. "We've had verbal commitments from OEMs to lease 100 percent of our equipment in 2013."