ETC INTERNATIONAL FREIGHT SYSTEM
We keep you abreast of issues involving you. See below the JOC report.
ILA, USMX Discuss Royalties
Joseph Bonney, Senior Editor | Dec 18, 2012 10:25AM EST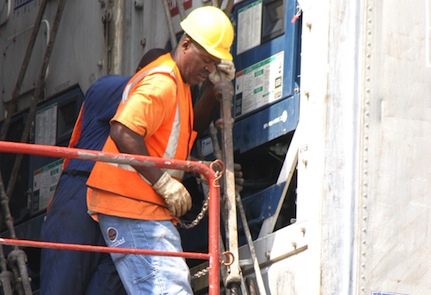 Representatives of the International Longshoremen's Association and United States Maritime Alliance resumed negotiations today in an effort to head off a threatened Maine-to-Texas strike at year-end.
ILA wage-scale delegates voted last week to authorize union president Harold Daggett to call a strike if there's no agreement when the union's contract expires Dec. 29. Daggett said last week that if the two sides can make headway on the issue, he'll call off the threatened strike.
Complete coverage of ILA-USMX negotiations
Today's negotiations are focused on container royalties, which have emerged as a key sticking point in the bargaining. The ILA is resisting USMX's proposal to cap worker payouts from container royalties at existing levels, which average $15,500, and use the excess to fund other ILA benefits. USMX also has proposed to eliminate royalties for new hires.
Besides royalties, contract issues include management proposals to provide local negotiators with more flexibility to address work rules that require high staffing levels, particularly in the high-cost Port of New York and New Jersey.
The coastwide contract already has been extended once, for 90 days past Sept. 30. As the new deadline approaches, shippers are growing nervous about the possibility of a year-end work stoppage.
Last week, 68 trade associations urged the ILA and USMX to continue negotiating until a deal is reached even beyond the current deadline of December 29. The National Retail Federation on Monday urged President Obama to seek an injunction under the Taft-Hartley Act if necessary to keep East and Gulf ports open.
Overseas shipping, International shipping, Global Logistics, Air, Ocean, Freight Forwarders in California
NITL Asks Obama to Act If ILA Strikes
JOC Staff | Dec 14, 2012 1:36PM EST
The National Industrial Transportation League, the United States' largest shipper organization, urged President Obama to intervene quickly if the International Longshoremen's Association goes on strike at East and Gulf coast ports.
NITL President and CEO Bruce Carlton said in a letter to Obama that manufacturers, retailers, farmers and others would be hurt by an ILA strike. "We respectfully ask you to be prepared to immediately put into place measures within your authority to continue operations and services while more time is secured to reach an agreement through collective bargaining," Carlton's letter said.
The Taft-Hartley Act empowers the president to intervene to halt work stoppages that threaten national health or safety. The law allows the president to seek a court injunction for a back-to-work order during an 80-day cooling-off period. The law was last used in 2002 to end a 10-day lockout of the International Longshore and Warehouse Union on the West Coast.
Complete Coverage of ILA-USMX Negotiations
The NITL letter followed a vote this week by ILA delegates to authorize union president Harold Daggett to call a strike if no contract is reached by Dec. 29, when a 90-day extension of the current contract expires.
Representatives of the ILA and United States Maritime Alliance are scheduled to meet Tuesday to discusscontainer royalties, one of the chief sticking points in negotiations for an East and Gulf coast master contract. Daggett said this week that if the royalty issue can be worked out, the ILA will call off its strike threat.
Container royalties provide annual payouts to ILA members from ocean carriers' per-ton payments on containerized cargo. The ILA is resisting USMX proposals to cap payouts at current levels, which averaged $15,500 last year, and use the excess to fund other ILA benefits, and to eliminate payouts for new hires.
ILA-USMX: Down to the Wire?
Joseph Bonney, Senior Editor | Dec 13, 2012 3:10PM EST
Harold Daggett isn't saying so, but the International Longshoremen's Association president seems to have opened the door for a second ILA contract extension.
That's how I interpret the latest twist in eight months of negotiations of a Maine-to-Texas dockworker contract between the ILA and United States Maritime Alliance.
A small group of ILA and USMX representatives will meet next Tuesday to discuss container royalties. Daggett said that if those talks work out well, he's prepared to call off a threatened year-end strike. He didn't mention an extension, but if the strike threat is called off, it seems likely the Dec. 29 deadline could be pushed into January.
Daggett's statement about Tuesday's meetings capped three days of contentious bargaining with USMX representatives in Delray Beach, Fla., this week. "We did a lot of yelling and screaming, and got a lot off our chests," Daggett said, in what others described as a rare understatement by the ILA president.
Before the initial session with USMX, Daggett won authorization from the ILA's 200-member wage scale committee to call a strike if a deal isn't reached when a 90-day contract extension expires on Dec. 29. The delegates' vote was designed to bolster the ILA president's negotiating stance and ratchet up pressure on employers.
USMX is resisting the pressure. In contrast to some previous negotiations, container ship lines and other employers this year seem determined to achieve productivity gains and rein in costs. Many USMX carriers are the same ones that took an eight-day strike this month by the International Longshore and Warehouse Union's Office Clerical Unit on the West Coast.
Complete Coverage of ILA-USMX Negotiations
It will be interesting to see how the ILA and USMX address container royalties, an issue that's difficult to consider in isolation. Annual royalty checks, financed by carriers' per-ton payments on containerized cargo, are just one facet of a complex ILA wage-benefit package. If container lines are too generous with royalties, the carriers must make it up somewhere else. If the union makes concessions on royalties, it will seek offsetting gains.
That's give and take, something that's been in short supply in these negotiations. For weeks after their 90-day extension in September, the ILA and USMX made little apparent progress. It wasn't until this week that the ILA, prodded by a federal mediator, fleshed out its general demands with specific contract proposals.
But now the two sides finally seem to have gotten down to business. If next week's meeting can produce movement on the royalty issue, don't be surprised if they agree to another short-term extension. Negotiators still have lots left to do, and little time before Dec. 29.