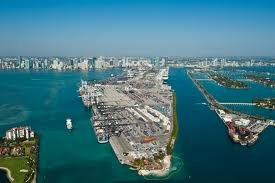 For our importers, we sharing some information, sourced by JOC, which will change the ocean imports & land-bridge to & from the East Coast.
Florida will surpass New York to become the third-largest U.S. state in population by next year.
In spite of it, Florida still gets about 70 percent of its containerized imports from outside the state. They come in via intermodal rail from Loa Angeles-Long Beach or by truck from Savannah.
With the above in mind, the Port of Miami is investing about $2 billion in infrastructure developments. It aims to become the gateway for imports destined for the state's growing population.
"What we want to do is recapture Florida's lost business," said Bill Johnson, executive director of the Port of Miami.
They have plan to deepen its harbor from 42 feet to 50 feet,  a new rail tunnel under construction that will carry trucks directly onto the interstate highway system, and is completing reconstruction of a railroad bridge to its on-dock rail terminal.
The three projects will double the port's annual capacity from just fewer than 1 million 20-foot-equivalent units at present to 2 million TEUs by the end of the decade. Johnson said the addition of rubber-tired gantry cranes will boost annual capacity to 3.5 million TEUs in the next decade.
"We want to continue our strength on the north-south trade and are looking for some market share increase on the east-west trades," Johnson said.
The state and the port are so eager to deepen the harbor to handle post-Panamax ships that they have jointly ponies up $220 million in funding for the project, with each contributing $110 million.
"It's the first time in history that a port has undertaken a project like this without any federal participation," Johnson said. 
The port and the state are, however, pushing to get Washington to repay the project's $77 million federal share.
The deepening project was authorized in the 2007 Water Resources Development Act, is fully permitted and is ready to start. "Our dredging contractor, Great Lakes (Dredge & Dock), is doing the environmental prep work, and we expect the first shovel in a matter of weeks," Johnson said.
The deepening project is due for completion in mid-2015, approximately six months before the Panama Canal's large new locks open to commercial traffic, enabling post-Panamax ships from Asia to call at East Coastports. Ocean carriers are already deploying post-Panamax ships from Asia on the all-water trade with the U.S. East Coast through the Suez Canal.
"We don't care if they come from east or west," Johnson said.
The port has just installed four new super-post-Panamax cranes, which it plans to use when the 9,640-TEU Maersk Altair calls there on Nov. 30, albeit not fully loaded, on Maersk Line's
revamped TP7 service, which was rerouted in May away from the Panama route to
the Suez route from north China.
The tunnel under Biscayne Bay from the port will open this coming May, along with two additional lane son I-395 that will enable trucks carrying containers to and from the port to bypass downtown Miami's streets and travel directly onto I-95 north to Florida's growing markets.
The port has completed reconstruction of the Florida East Coast Railroad's hurricane-damaged rail bridge to the port and moved a short train loaded with inbound containers across it on Nov. 1. "This is the first
time we had a train leave the port with boxes," said Juan Kuryla, the port's director designate.
The bridge connects with the Florida East Coast Railroad's main rail line north to Jacksonville, where it will connect with CSX and Norfolk Southern. "From there we can reach 70 percent of the entire U.S. population in four days or less," Johnson said.
"Once we recapture Florida's lost business, we are looking to penetrate by rail into the heartland of America," he said. "Miami will emerge slowly over the next years as one of the most efficient, cost-competitive port on the U.S. East Coast."
ETC International Freight System is a Federal Maritime Commission (FMC) licensed, as a non vessel operator common carrier (NVOCC) bonded, an ocean service contract holder & ocean consolidator providing services to and from world destinations. ETC and its freight network accesses yearly volume ocean contracts from a variety of steamship lines. Through us, our customers obtain wholesale pricing with savings passed down to them.
Nationwide: (800) 383-3157
ETC's Terms and Conditions of Contract are accessible on Word document and available upon your request.
Useful Information
Container Max Weights:
20' – 34,000 lbs (if weight exceeds 34,000 a tri-axle chassis must be used)
40' – 44,000 lbs
Standard container internal dimensions
20'SD: 19′ 6″ L x 7′ 8″ W x 7′ 9: H (capacity: 1250 CFT.)
40'SD: 39′ 5″ L x 7′ 8″ W x 7′ 9: H (capacity: 2434 CFT.)
40'HQ: 39′ 5″ L x 7′ 8″ W x 8'10" H (Capacity: 2495 CFT.)
Less Than A Container Load (Consolidated ocean cargo)
Ocean Freight minimum – 1 Cubic Meter = 48"x 42"x30"
Standard pallet Sizes = 48"x 40" or 48"x42"
International Shipping, Overseas Container, Import.
Massive renovation underway at the port of Miami.GET a quote