Joseph Bonney, Senior Editor | Mar 05, 2013 11:51AM EST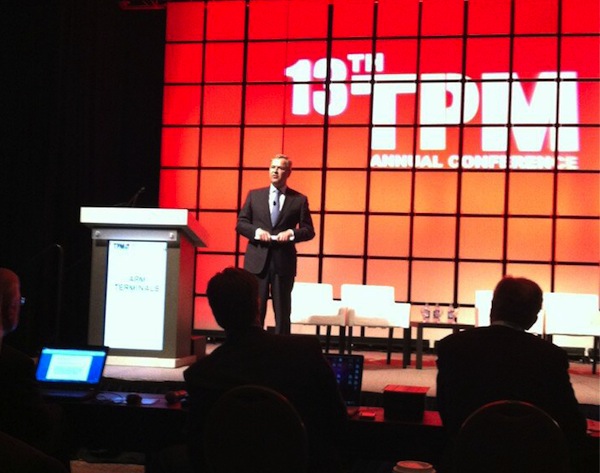 JOC › Maritime News › Container Lines › Maersk Line
LONG BEACH, Calif. — Container ship lines can improve on last year's results if they continue to trim costs and control capacity, Maersk Line CEO Soren Skou said in the keynote speech to the JOC's 13th annual TPM Conference.
International Ocean Shipping – Capacity vs. Revenue
Skou said global ocean shipping vessel capacity is expected to rise 10 to 11 percent this year while demand rises only 4 to 5 percent. He said, though, that the gap could be bridged by scrapping, idling and slow-steaming of ocean shipping vessels.
"These are the three levers we can use," he said. "We have to be able to live in a world of overcapacity."
Maersk posted operating profit of $461 million last year, a turnaround from a $553 million loss a year earlier, as revenue grew 8 percent to $27.1 billion.
Skou said 2013 presents container lines with a bigger challenge, but that the industry is becoming "smarter" about matching international ocean shipping capacity with demand.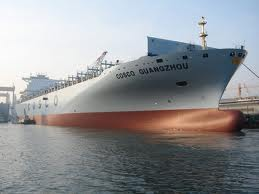 He noted that carriers skipped 31 sailings totaling 182,000 20-foot-equivalent units during the recent Chinese New Year, when ships otherwise would have sailed largely empty.
Carrier profits have been hurt by an oversupply of big ships in the Asia-Europe trade, but Skou said a shift in Asia-to-U.S. East Coast routings to Suez Canal transit from the Panama Canal is providing a relief valve.
Just five years ago, 90 percent of Asia-U.S. East Coast routings were via Panama. That ratio has dropped to 60-40 as carriers have deployed larger, more efficient ocean shipping vessels from Asia-Europe routes.
Vessels bumped from Asia-Europe are being shifted to other routes, where they're displacing smaller, less-efficient ships that are being returned to non-operating owners or sent to the scrapyard, he said.
"This trend, in my view, is going to continue," Skou said. In addition to rising bunker costs, carriers' Panama Canal tolls for Panamax container ships have risen to $450,000 from about $250,000 since 2006.
Maersk plans to take delivery this year of five of 20 Triple E ships, which will have nominal capacity of 18,000 TEUs each, but those ocean shipping vessels won't be fully deployed until 2014. He reiterated that Maersk would keep its capacity in line with market demand in Asia-Europe, where the big ships will be used.
Trans-Pacific rates being negotiated this spring "will be higher this year than last year," Skou said. He said Asia-U.S. rates have been essentially flat and that carrier margins on earnings before interest and tax have averaged just 1 percent since 2006, a situation he called unsustainable.
He said Maersk is "fairly optimistic" about growth of the U.S. market. He cited recovery of the housing industry and upward trends in other economic indicators. Europe's economy remains sluggish, but Skou said carriers must cope with it.
It's unrealistic to expect container market growth to return to the nearly 10 percent annual average it enjoyed between the mid-1970s and 2008. Carriers must recognize that and deal with it, he said.
Skou used his TPM speech to announce eight customer care targets that Maersk is unveiling as a result of meetings with 1,000 customers who said their advice to the carrier was "don't try to be different, just try to be good."
###
ETC International Freight System is a Federal Maritime Commission (FMC) licensed, as a non-vessel operator common carrier (NVOCC) bonded, an ocean service contract holder & ocean consolidator providing services to and from world destinations. To request a quote use the form below or call us Nationwide at (800) 383-3157.
We are happy to provide information regarding ocean shipping container sizes, weight restrictions and space requirements. To view details or request a custom quote: