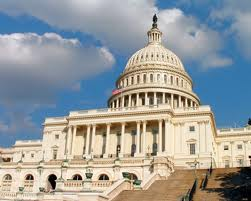 Major Waterways Bill
Making Its Way Through Congress Stuck in Stalemate
There's little good news coming out of Washington these days according to a recent JOC article. The federal government partially shut down at the beginning of the month after a stalemate in Congress over funding President Obama's health care reform law. Congress and the Obama administration failed to
address long-term fiscal issues, allowing the federal budgetsequestration — the proverbial gun pointed to its own head —to fire.
And the blasts could keep coming because lawmakers already are digging in for a fight over whether to raise the nation's $16.7 trillion debt ceiling. Failure to raise the ceiling by Oct. 17 would cause the U.S. to default on its loans and, some say, trigger another
recession.
In the midst of this larger Beltway impotence, a major bipartisan port and inland waterways authorization bill is making its waythrough Congress. Aside from authorizing long-delayed projects, the final bill likely will free up more money for inland waterways and port construction, andspeed up the project cycles. The water resources bill ultimately could help
reduce export and import costs. But whatever form the final bill takes, it would only be the start to the investment needed in the nation's ports and inland waterways.
Prospects for the passage of an authorization bill appear good, considering the House and Senate versions have so much incommon. The Senate overwhelmingly passed the Water Resources Development Act in May, and the House is expected to vote on its own version this month, paving the way for a potential conference between the two chambers. Before that can
happen, however, the House will have to deal with the spending and debt ceiling controversies swirling through Washington, allowing the government to, well, govern.
Key Port Projects Await Go-Ahead
The bill is long overdue — Congress last passeda WRDA in 2007. Until the last law expired, a bill was passed roughly every year until recession-era tightening banned earmarks for specific projects. The delay stalls projects ranging from flood management work, navigational fixes
and harbor deepening.
The passage of the bill, for example, would authorize the deepening of the Port of Savannah's 29-mile channel to 47 feet from 42 feet. The $652 million project, which previously won federal authorization, must go through the approval process again because environmental protection measures have inflated the project cost. Savannah, like other East and Gulf Coast ports, wants to deepen its harbor to handle heavily loaded, larger vessels able to
traverse the expanded Panama Canal. Shippers and container lines are watching closely to
see who will be ready after the $5.25 billion canal expansion project opens in mid-2015.
The deepening of the ports of Savannah and Charleston will allow International Paper to continue to ship the majority of its exports out of those gateways. "If the ports of Charleston and Savannah cannot handle the larger ships in 2015, we will be forced to redirect our exports to other U.S. ports that can accommodate the larger ships, or sharply reduce our exports," said Thomas Kadien, senior vice president of consumer packaging for International Paper (Asia). 
Shipping out of the ports of Baltimore and Virginia would increase rail and trucking costs for the paper and packaging exporter, which spends $2 billion on logistics annually, Kadien told Congress on Oct. 1.
The other major port project awaiting authorization is a $38 million fix to a navigaional problem preventing large, heavily loaded container vessels from calling at the Port of Jacksonville nearly two-thirds of the day. Jacksonville also wants authorization to dredge
its 40-foot-deep channel to 47 feet, but the Army Corps of Engineers' chief report
isn't due until next year, meaning the project risks not being included in the
current bill. 
TraPac, operator of the MOL container terminal at Jacksonville, already has lost out on cargo because of the navigational issue and warns that business will get worse if a deeper draft isn't authorized soon. Rep. Corrine Brown, D-Fla., wants to include an amendment that would add
Jacksonville and Port Everglades deepening projects in the authorization bill, but her attempt in a House subcommittee failed.  
"I think everyone, including TraPac, is looking to see some commitment that this project will advance," Jaxport CEO Brian Taylor said.
Giving Ports Their Fair Share
If passed, the water resources bill will do more than just allow projects to move forward. Both the Senate bill and the House version — the Water Resources Reform Development Act — aim to speed up the construction of Army Corps projects.
The bills also aim to use give more money collected through the Harbor Maintenance Tax back to ports, instead of using the dollars to plug general budget holes. About 65 percent of the $1.8 billion collected is estimated to head back to ports for maintenance dredging and jetty upkeep in fiscal 2014. Ports have received only about half of collected HMT in previous years.
The aggressiveness of proposed Harbor Maintenance Trust Fund Reform differs b chamber, however. The House bill would return to ports at least 80 percent of collected taxes by fiscal 2020, while the Senate bill aims to return all HMT dollars to ports within the same period.
Despite pushes for HMT reform from both chambers, it's uncertain whether appropriators will skirt language blocking them from siphoning dollars from the fund, said Ray Bucheger, a federal policy and legislative consultant with FBB Federal Relations. "If there are going to
be any sparks (in the bill debate), it's going to be over full-use versus 80  percent," he said.
Both bills also would free up inland waterways dollars for work other than the behind-schedule, over-budget Olmstead Lock and Dam project on the Ohio River between Illinois and Kentucky. The House bill would have the federal government pay for a quarter of the project, estimated to cost $3.1 billion, while the Senate version would put the entire burden on
Uncle Sam.
DC Spots Ports' Economic Potential
The long overdue legislation comes as Washington awakens to the economic impact of U.S. ports, and the funding challenges they face. The Obama administration is trumpeting the need to deepen East and Gulf Coast ports — the president made his case at the TraPac terminal in
Jacksonville in July and on "The Tonight Show With Jay Leno" in August. More recently, Vice President Joe Biden toured the ports of Baltimore, Charleston and Savannah.
"Unless we expand ports on the East Coast, we're going to fall behind," Biden said on Sept. 16 at the Port of Baltimore, one of two U.S. East Coast ports with harbors deep enough to handle fully loaded post-Panamax vessels. The Port of Virginia is the other.
Congress is giving ports their due as well. The House Transportation Infrastructure Committee is pushing a whiz-bang campaign involving Twitter and YouTube to educate legislators and their constituents on why ports are integral to economic growth. In the Senate, the two top members of the Environment and Public Works Committee — Sens. Barbara Boxer, D-Calif.,
and David Vitter, R-La. — haven't let a nasty ethics feud dampen their joint
chorus for infrastructure investment.
Divisions Among Ports Persist
Behind the rousing calls for port investment lurk divisions. Ports that have naturally deep harbors want to be able to use federal dollars collected through harbor maintenance taxes for work other thanmaintenance dredging. The ports of Los Angeles and Long Beach, for example,
generate 28 percent of total HMT revenue but get back only about 6 percent,
while the Port of Seattle gets about a penny for every dollar it kicks into the Harbor Maintenance Trust Fund. The final water resources bill likely will have language addressing some ports' desire for more equitable HMT use, but it's unlikely to end the debate.
Others would rather scrap the HMT entirely. Sens. Patty Murray and Maria Cantwell, both Democrats from Washington, have introduced a bill that would replace the 0.125 percent levy on the value of imported cargo with a Maritime Goods Movement User Fee. The fee would be
assessed on all containers that originate internationally, including those that
arrive by rail or truck.
"Unfortunately, shippers have been able to avoid the harbor maintenance tax by shipping goods through ports in Canada and Mexico and then transporting those goods into the United States via truck and rail," Murray and Cantwell said in a joint written statement. "This growing cargo diversion reduces the funds available to keep our ports in operating
condition."
The passage of a water resources bill won't fix the funding challenges ports and inland waterways face. The House bill would authorize 23 projects over the next two years, including flood prevention and other non-freight-related projects, equating to $10 billion in construction.
The Senate bill authorizes $7.7 billion worth of water-related projects over
five years.
The challenges look even steeper, considering many U.S. ports struggle to maintain their authorized channel depths, largely because of the siphoning of HMT funding. Robust private investment helps, but marine ports and inland waterways still face an investment gap of nearly $16 billion over the next seven years, according to the American Society of Civil
Engineers.
What Ports Deserve Funding
With limited funding, East and Gulf Coast harbor-deepening projects should be prioritized using market-based metrics, including potential economic impact and trade flows, said J. Stanley Payne, who has held leadership positions at the Virginia Port Authority and the Canaveral Port Authority. The Corps of Engineers judges the feasibility of proposed deepening projects and considers trade flows and the impact of competing ports, but Payne, a maritime consultant, says they often don't drill down deep enough. This could result in Congress "viewing water development projects through a pork barrel lens," resulting in projects with
limited merit draining resources better spent on stronger ports. "It's No Child
Left Behind for ports," he said.
The deepening of all or most of the major East and Gulf Coast container ports likely wouldn't give taxpayers the economic short-term impact promised, but shippers and carriers would benefit, Payne said. Both will have improved gateways for cargo and be able to play ports off
each other. "Something has gone wrong with the entire system," Payne said. "Ports have known for decades that they need deeper drafts, but they still don't have enough money for future deepening work and maintenance."
Central planning from the federal level stifles innovation, and the 35 years of deregulation in transportation and logistics industries has created "astonishing improvements" to the U.S. supply chain, said James Burnley, who served as transportation secretary during President
Reagan's second term. The government doesn't have a good record of "picking winners and losers," he said. Besides, central planning "would still be an intensely political process," and the idea that it wouldn't be is "naïve," said Burnley, co-chair of the transportation practice at Venable, a global law firm.
Just because there isn't central planning doesn't mean there isn't a federal port policy. The corps calculates cost-benefit ratios for potential projects, and Congress and the executive
branch still determine which ones get final authorization, said Paul Bea, principal of maritime consultant PHB Public Affairs. "I think the political process is an imperfect one, but it's more democratic than the other way of going about it," he said. "We are not set up as government for centralized planning where the state or regional authority has little or no role."
Central port planning isn't a surefire solution, either, as China, a major political meddler in business, has shown. Beijing has had to discourage port investment in favor of inland waterways development after coastal gateways added too much container terminal capacity.
With less federal help on the way, ports need more aid from local and state backers, and the private sector. Florida, Georgia and South Carolina are a few of the states that have invested aggressively in their ports and are ready to help out with future deepening costs. The adage
that "all politics is local" is increasingly becoming the case for port funding, too. 
International Trade News›Infrastructure News›US Infrastructure News, Maritime News›Short Sea Shipping, Port News›US Ports, Regulation & Policy›Transportation Policy›US, Transportation Policy, North America›United States
Making a difference when shipping with us at ETC International Freight System 1-800-383-3157 – Contact us via email: sales@etcintl1.wpengine.com or visit us at www.etcinternational.com