Round Fire of Friday February 6, 2015
I have not seen anything like this fire with erratic wind pushing 74 miles per hour to get you moving out of there. Rhetorically, speaking, this is what the ILWU & the PMA (International Longshoreman warehouse Union & Pacific Maritime Association) may need to get away from their quick sand negotiations.
You may have heard report of a fire in the Paradise, Swall Meadows areas with 7000 acres burnt up & 40 homes burnt to the ground (North of Bishop near the foot of the Wheeler Crest Mountain).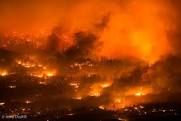 Well I was there and my home too. It was a fearful sight, but sitting in a community center next to my neighbors that had lost their homes to the fire made me reflect on the human spirit when affected by a disaster. They help each other in a compassionate way pulling resources from family, friends & the surrounding communities. It is humbling & it makes you feel you want to get involved.
Some of you importing or exporting may wonder about this weird 90 degrees turn from freight to a fire. But, you see, you can't help it connecting the dots of your life whether working or personal. You can be sure they connect.
And so after having spent since Friday on standby not knowing if I have a home, having had the chance to stay in a camper that friends immediately offered, waiting for the area to be opened again to the home owners & find out the structures that were still up versus the ones that were down was a bit innerving.
Coming back to the office & working hard to catch up with  what piled up, I will spare you the details, I am pulling out some information from JOC, which have been relentlessly reporting on that issue since last spring: This is a partial update:
Waterfront employers and the International Longshore and Warehouse Union are making what could be a last-ditch effort to win the hearts and minds — and pocketbooks — of the ILWU rank and file as coastwide contract negotiations may be hopelessly gridlocked with the possibility of a lockout looming.
The Pacific Maritime Association is attempting to hold off growing pressures within its own ranks for a lockout at West Coast ports due to the impasse in negotiations. Thursday will mark nine months of negotiations without a settlement. The PMA since last week has been publicly promoting the terms of its contract offer that includes increases in wages, medical benefits, pensions and jurisdiction of chassis maintenance and repair.
The employers' strategy is to convince the rank and file that ILWU negotiators do not have their best interests in mind, but rather the union leadership's best interests. The PMA has been hammering away at the issue it says is holding up successful negotiation of a contract. According to the PMA, ILWU negotiators will not tentatively agree to a contract unless the union can unilaterally fire waterfront arbitrators who have the power to rule against the ILWU in local labor-management disputes." End of quote.
I think that those guys don't know what crisis managment really works like & it would do them and the rest of us to appreciate the life threatening environment, the days & nights without sleep where everyone including the victims of the fire coming together as one & handling issues after issues, putting a community back on their feet. It would seem by contrast pretty pitiful & sick how the issues at the ports are handled. Actually, it is so bad that I would vote to lock the ILWU down & get private enterprises to handle the ports mimicking Europe that has great 20 years success with on-time cargo.
Here we are hands-on handling air & ocean shipments whether coming in or out always on the llookaout for our shippers. For a quote and a reliable freight forwarder, please click below the button: