ETC International Freight System
International Shipping, Freight Fowarders in California, Air, Ocean, Global Logistics, Overseas Shipping
JOC Asian reporting below:
Asian Ports Wear the Crown in Productivity
Dean Davison | Feb 03, 2013 12:00PM EST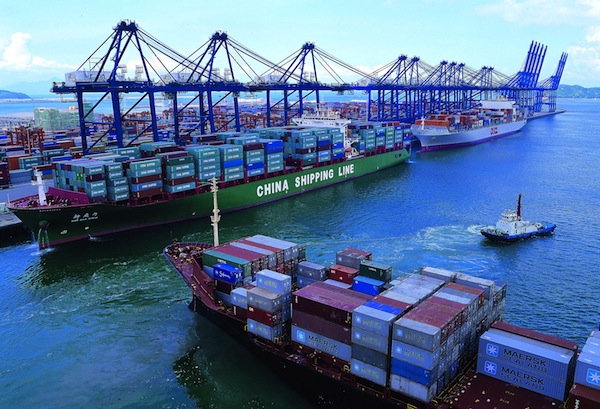 More than half of all containers that move through ports on a global basis pass through terminals in Asia. The rise of container traffic throughout the continent, especially in North Asia and China, has resulted in large-scale construction and expansion of container ports that now dominate the industry; Asia represents eight of the top 10 and 15 of the top 20 container terminals in 2011, according to the World Shipping Council.
But does size equate to efficiency? Are the largest container ports also the most efficient? According to port productivity data from The Journal of Commerce, the answer is yes.
Container ports in North Asia, a region including China, Japan, South Korea and Taiwan, consistently handled more total containers per hour than any other region in 2011 and 2012. North Asian ports collectively surpassed more than 70 gross moves per hour in 2012, an increase over the 67 recorded for 2011.
The second most productive port region in 2012 was the Middle East, with 62 moves recorded on average per hour, an improvement on 2011's total of 58.
Ports in North Asia and the Middle East retained the first and second spots in the global regional productivity rankings, according to the JOC data (see Peter Tirschwell's commentary).
In 2011, North American ports shared with Southeast Asia a creditable third place among global regions, with an average of 49 gross moves per hour (gross moves is calculated as the total moves between the ship's arrival and departure from the berth divided by the number of hours at the berth, without adjustments for equipment downtime, weather, or worker breaks). Last year, North American Port Proctuctivity slipped to 47 moves an hour, causing the region to slip to a fourth-place tie with the Indian subcontinent.
A wide gap in productivity among regions globally is also clear in the data, with the Caribbean and Africa filling the final two spots in the regional ranking in 2011 and 2012, with both areas seeing year-over-year declines of two gross moves an hour.
For Caribbean ports, the lower number of moves came despite the presence of several large transshipment terminals, at locations such as Freeport, Bahamas, and Kingston, Jamaica, an operational mode that should yield higher productivity.
Chinese ports dominate as the most efficient in North Asia, accounting for seven of the top 10, with Busan, Kaohsiung and Tokyo also showing consistently high productivity.
It's worth noting that some of the most efficient North Asia ports also handled a significant share of transshipment containers. Transshipments made up an estimated 40 percent of Shanghai's volume in 2012; Busan's share totaled 50 percent; Kaohsiung, 55 percent, according to port data. Nevertheless, the higher gross moves achieved per hour are easily seen, thereby ensuring that the region retained its top ranking.
Japan's ports show consistently lower berth productivity. This is an operating trend reflected at Tokyo as well as most Japanese ports, with Nagoya, for example, recording average gross moves of 45 per hour in 2011 and 37 last year.
The expectation is that continued high levels of investment will enable North Asian ports to maintain their dominance globally in berth productivity, a measure closely watched by carriers as high productivity equates to faster port turnaround time and thus more slow-steaming opportunities.
Why is Asia ahead of the pack? It's not complex: modern equipment, infrastructure and high levels of investment. By serving larger ships consistently on the main east-west routes, cranes tend not to move around as much during the ship call, which means they keep working. This results in more cranes deployed on a ship simultaneously.
Labor is also a factor. Like their counterparts in other regions, crane drivers are well-trained, experienced operators with a strong service culture. This is key because many Asian container ports are newer than in the West and aren't burdened by the same history of labor-management conflict seen at many ports in the U.S., for example.
The Middle East isn't dissimilar from Asia. Many ports have seen heavy investment in facilities and equipment, have fewer work force challenges and tend to enjoy good weather and visibility that can boost productivity numbers.
In North Europe and the Mediterranean, a different port environment prevails. While the region's ports have seen considerable investment, many believe productivity should be higher, especially in North Europe where the largest ships in the Asia-Europe trade make most of their port calls.
It's an area with a traditional work force structure, which has seen a transition into handling containers rather than container ports sprouting up anew, and historic, restrictive work force practices and influence of unionization have remained in play.
North America shares some of those traits, having transitioned from a pre-container environment and experienced many bumps along the road. The issue of royalties paid to East Coast dockworkers, which has been a point of contention in the current volatile contract negotiations between the International Longshoreman Association and United States Maritime Alliance, is a case in point. Royalties have been paid to dockworkers for decades, originally to help them transition into the more efficient and less labor-intensive container environment.
Other regions are bringing up the rear in terms of productivity. Low-quality equipment, a prevalence of smaller ships, less efficient terminal operations, and congestion at the quayside and in the yard all impact productivity, and it's reflected clearly in the numbers.
Dean Davison is a senior consultant with Ocean Shipping Consultants, a unit of Royal Haskoning, in Surrey, U.K.