Space Tight at Inland Empire Warehouses, DCs
Bill Mongelluzzo, Senior Editor | Jan 21, 2013 9:49AM EST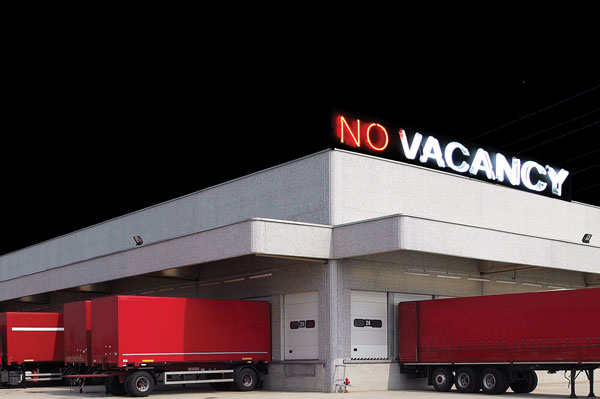 Industrial real estate professionals talk about Southern California's Inland Empire, the huge warehouse and distribution region about 50 miles east of Los Angeles, the way commercial realtors speak about Manhattan in New York City.
"Everyone wants to be there. Everyone needs to be there," said Blaine Kelley, senior vice president of CBRE's global supply chain practice, before adding, "The barriers to entry are high."
The Inland Empire in 2011 led the industrial real estate industrial realstate industry out of the disastrous economic recession. Thanks to measured, steady progress in 2012, much of the vacant property remaining from the 2008-09 recession has been reabsorbed.
The property of choice in the region — large warehouses of 500,000 square feet and larger — are "all accounted for," said John Husing, a Riverside, Calif., economist who specializes in the Inland Empire.
The vacancy rate for all properties in the Inland Empire at the end of September was 6.3 percent, down from 12.8 percent at the depths of the recession. Most of the vacancies are in smaller properties of 250,000 square feet or less.
Rents bottomed out at $3.60 per square foot during the recession, and are now about $4.32. At the peak of the market in 2007, rents were about $5.21 per square foot, Husing said.
The traditional strength of the Inland Empire has been its access to Los Angeles-Long Beach, the nation's largest port complex. Marine containers are trucked to warehouses and the contents are reloaded into 53-foot containers and trailers. Some of the freight is destined for local consumption. Other shipments move in domestic containers by intermodal shipping rail to the eastern half of the country.
The Inland Empire took on an additional flavor last year when e-commerce giant Amazon.com opened a 950,000-square-foot fulfillment center in San Bernardino. The e-commerce pioneer joined other companies — traditional retailers expanding their e-commerce business and pure e-commerce players — that have established a presence in the Inland Empire. "If I had to choose the No. 1 trend in industrial real estate, it is the growth of e-commerce fulfillment," said Scott Weiss, vice president of client solutions at Weber Logistics.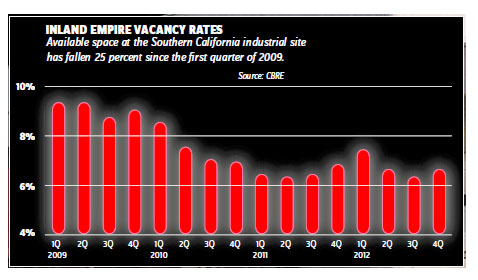 E-commerce in the Inland Empire is no different than in any other U.S. location. It is geared toward rapid fulfillment of retail orders placed by consumers in major metropolitan regions. E-commerce centers are more labor-intensive as items move one at a time to individual consumers rather than in pallet or container units to stores.
Importers who choose the Inland Empire as the location for their import distribution operations do so because they need a large amount of space at rental rates that are lower than they would pay closer to Los Angeles-Long Beach.
Inland Empire real estate is generally priced 15 to 20 percent lower than properties in Los Angeles County, Weiss said, and it's next to impossible to find vacant property of 300,000 square feet or larger near the ports. Although trucking and other transportation costs to the Inland Empire are higher, they're offset by the savings in labor, land and rents, he said.
Third-party logisticproviders such as Weber are expanding their operations through generic growth or by taking on new customers. Some retailers that have only had a presence on the East Coast are expanding their import operations to the West Coast. Existing customers that have outgrown their facilities and need additional space or more value-added services also are moving into larger facilities, Weiss said.
Weber is always on the lookout for additional space, because its current properties are 92 percent occupied. Weber recently secured one additional warehouse, but missed out on two others as competitors moved faster. "Those spaces are gobbled up so quickly," Weiss said.
Developers, which had almost ceased building during the recession, are back in the market now. Plans have been announced for construction of about a dozen large facilities on speculation in the Inland Empire, Kelly said.
The rapid growth of e-commerce, which still accounts for less than 10 percent of retail sales, has put the Inland Empire in the spotlight as the preferred location for retailers serving Southern California and its 16 million-plus population.
E-commerce fulfillment centers are labor-intensive, and because the facilities tend to be highly automated, operators are looking for workers experienced in using information technology to track and locate shipments.
Another requirement for e-commerce fulfillment centers is a pool of qualified part-time workers available to handle cargo surges. Location near colleges and universities is a plus. Because most deliveries are via parcel carriers, access to UPS and Federal Express hubs also is beneficial.
Community acceptance of warehouse
and distribution activities varies. Resistance tends to be greater in the western Inland Empire, which is already built out, and less so heading toward the desert, where more open space is available and unemployment rates are higher.
If the right location is chosen, a permit for launching operations in an existing facility can be secured relatively quickly, Weiss said. Weber was able to begin operations in a recently acquired facility in 30 days, he said.
Environmental regulations can be a hindrance, however. The South Coast Air Quality Management District can make the permitting process long and arduous in a region begging for more middle-class jobs, Husing said. "AQMD gives no consideration to the employment needs of blue-collar workers," he said.
The trend in industrial real estate nationwide is decidedly toward growth, especially in the traditional hot spots of Southern California, northern New Jersey, Chicago and Dallas, Kelley said.
Husing sees another year of steady development in the Inland Empire, with the extent of growth to be influenced by the emergence of e-commerce activities and cargo volume growth at Los Angeles and Long Beach.