ETC International Freight System
International Shipping, Economies, Global Logistics, Air, Ocean, International Trading
Putting a Price on a Port Strike
Joseph Bonney, Senior Editor | Feb 15, 2013 11:32AM EST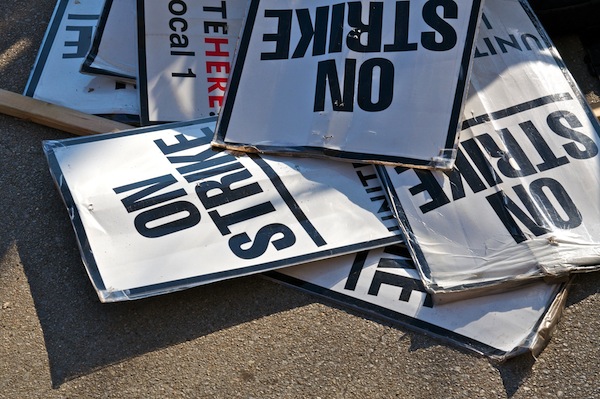 When a labor dispute closed West Coast ports in 2002, the immediate economic impact was said to be $1 billion a day. When a strike idled 10 terminals at Los Angeles and Long Beach last fall, the hit to the economy was reported at $1 billion a day. And when the International Longshoreman Association threatened to strike container ports on the East and Gulf coasts, there were widespread warnings that it would cost the economy — you guessed it — $1 billion a day.
How accurate is that number? No one knows. Apparently, there's been no study to quantify the likely impact of a Maine-to-Texas port shutdown, and some economists and analysts say the billion-a-day estimate is grossly inflated.
"It's a made-up number, a statistical fiction," said Jock O'Connell, international trade consultant at California-based Beacon Economics. "It's a conveniently large, round number that people can grab onto. But when you start peeling the onion, it's impossible to justify. It's the equivalent of saying it's a gazillion dollars. If you said a gazillion, people would laugh at you, but a billion sounds reasonable. The same billion-dollar figure is trotted out regardless of the time, place or duration of the strike."
No one disputes that port shutdowns are costly and disruptive. Even the possibility of a strike requires companies to absorb unbudgeted inventory, transportation and other costs. Repeated ILA strike threats during the last six months have forced companies to implement costly contingency plans.
But calculating the impact to the overall economy is an inexact science.
The National Retail Federation and the National Association of Manufacturers are among organizations that have cited $1 billion per day as the likely impact of an East and Gulf Coast container port shutdown, and of the recent eight-day strike by the International Longshore & Warehouse Union Office Clerical Unit at Los Angeles-Long Beach.
Spokesmen said their estimates were based on the reported impact of the 2002 dispute that closed West Coast ports for 11 days over a 12-day period. "We believe that based on our communications with manufacturers who will be impacted by a port disruption, that the economy-wide impact of a strike this year would be similar," said Jeff Ostermayer, a spokesman for the manufacturers' association.
John C. Martin & Associates, a Lancaster, Pa., firm that has conducted numerous economic impact studies for ports, estimated the daily impact of the 2002 shutdown at just under $1 billion for the first five days, and more than $1.9 billion by the end of the dispute.
Martin's report in 2002 was commissioned by the Pacific Maritime Association, which used the estimates in persuading the Bush administration to invoke the Taft-Hartley Act to halt the West Coast shutdown. The report indicated most economic costs would be indirect impacts farther up and down supply chains.
Other analysts offered widely varying estimates suggesting lower economic impact. The Center for American Progress, a nonpartisan Washington think tank, said the 2002 lockout was estimated to have cost the U.S. economy a total of $6.3 billion to $19.4 billion, "with the lower figure being most credible."
Those are big numbers, especially to companies absorbing a share of the costs, but they're a relatively tiny slice of U.S. GDP, which was estimated at $15.8 trillion last year. The Federal Reserve Bank of San Francisco said the 2002 shutdown was disruptive, but "had a limited impact on overall economic activity."
The San Francisco Fed said the shutdown disrupted vessel traffic and increased shipping times and costs for weeks, but "did not stop the movement of goods into and out of the U.S. Businesses worked around the disruptions, in part by diverting cargo to other ports and by shifting to other modes of transportation."
Other analysts noted that many companies devised workarounds that minimized losses, and that some of those losses were offset by gains elsewhere in the economy. Air freight providers, for example, enjoyed a surge in bookings during the 2002 dispute.
The Congressional Budget Office said in a 2006 report that a one-week shutdown of the ports of Los Angeles and Long Beach would cost the U.S. economy $65 million to $150 million a day, although the ports handled some $500 million worth of containerized imports a day. "The cost to the national economy of a disruption would reflect the losses of some firms and the gains of others," the CBO report said.
A 2004 paper by Peter V. Hall, a professor at the University of Waterloo in Canada, said the high-end estimates of the 2002 West Coast shutdown's impact "assumed away the possibility of short-run substitution for most imports. Or, in other words, they assumed that the ships carrying the cargo sank."
Complete coverage of ILA-USMX negotiations
But except for cargoes such as perishable foodstuffs, most cargo affected by the port dispute was not a total loss. Shippers incurred higher costs, but most cargo eventually was delivered for use or sale, said Hall, who now is a professor at Simon Fraser University in Vancouver, British Columbia.
Alex Rosaen, director of public policy and economic analysis at Anderson Economic Group in East Lansing, Mich., said traditional port economic impact studies are useful for measuring direct economic impacts, but are less accurate in gauging indirect impacts farther up or down supply chains.
"The bigger you draw the circle of your geography and analysis, the harder it is to see big impacts," Rosaen said. "One way to think about it is to ask, 'Is there less work being done in the world? Is there a factory that's idle that is not made up for by another factory working at higher capacity somewhere else?' You have to consider that one factory's shutdown may be another factory's third shift."
Shortly after the 2002 West Coast shutdown, Anderson estimated that economic damage from the disruption totaled $1.67 billion over 12 days.
The impact of a port work stoppage is affected by its timing and duration. There's general agreement that the longer a strike lasts, the more far-reaching its impact. "A two-day strike is an irritant, with localized impact. A four-day strike becomes much more critical. After a week or two, costs go from arithmetical to geometric," O'Connell said.
But those costs don't increase in a straight line, O'Connell noted. If a work stoppage drags on, companies have more incentive to implement workarounds by switching ports or transportation modes, changing suppliers, shifting production or substituting goods. Each of these actions mitigates the overall economic impact.
Other variables include whether a work stoppage happens during a busy season, as the 2002 lockout did, and whether shippers had warnings of potential disruptions. O'Connell noted that shippers have known for months that the current East and Gulf Coast longshore contract negotiations would be difficult. "Any supply chain manager who would have been caught flatfooted by an ILA strike should have been fired," he said.