Reid / ETC International Freight System
Shipping International, Global Logistics, Air, Ocean, Overseas Shipping, Freight Forwarders
Below is an update from JOC regarding the ports of Long Beach & Los Angeles.
OCU Strike Threatens Gridlock in LA-Long Beach
Bill Mongelluzzo, Associate Editor | Nov 29, 2012 1:59PM EST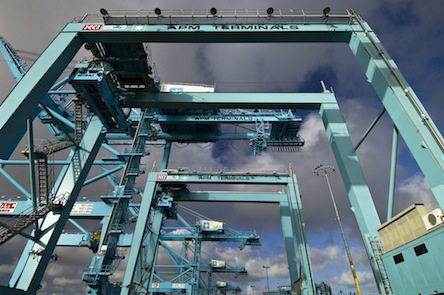 Striking office clerical workers continued to cripple the ports of Los Angeles and Long Beach Thursday as 10 container terminals remained shut down.
A crisis has not yet developed at the nation's largest port complex, but if the terminals remain closed through the weekend, some cargo interests and industry executives are predicting gridlock will result.
Members of the Office Clerical Unit of International Longshore and Warehouse Union Local 63 posted pickets at the terminals on Wednesday. ILWU dockworkers refused to cross the picket lines, ending cargo-handling operations at the facilities.
The OCU does not have contracts with four other container terminals in the harbor, and those facilities — one in Los Angeles and three in Long Beach — were operating normally Thursday.
Office clerical workers process shipping documents for shipping lines and terminal operators. They have been working without a contract since June 2010. The OCU union is affiliated with the larger ILWU, but the clerical workers have a different contract than ILWU dockworkers.
UPDATE: Port employers say they are ready to talk.
It appears the OCU has the upper hand in the struggle now that the area waterfront arbitrator and the Coast Labor Relations Committee have each ruled the OCU has bona fide picket lines in Southern California.
Earlier in the week, the area arbitrator ruled the OCU's job action targeting only the APM Terminal in Los Angeles was not a legal picket under the waterfront contract between the ILWU dockworkers and the Pacific Maritime Association. The longshoremen were ordered to return to work at APMT, but the dockworkers refused to follow the arbitrator's order.
The decision by the OCU on Wednesday to post pickets at all of the terminals where office clerical workers have a presence was apparently enough to cause the arbitrator to issue a second ruling saying the pickets are bona fide. The Coast Labor Relations Committee late Wednesday reached the same conclusion.
The union's main issue involves alleged outsourcing of jobs to non-OCU workers in other states and overseas. Employers continue to resist attempts by the union to maintain contract provisions requiring that jobs always be filled when workers are absent or retire, even if there is no work to be done.
The main concern of importers and exporters is with each day that goes by with two-thirds of the harbor shut down, a backlog will eventually cripple the ports. Some vessels conceivably could be handled at the four terminals that continue to operate, but they would have to be third-party shipping lines that do not have their own OCU-manned terminals in Southern California.
If a vessel operated by a shipping line affiliated with a terminal where OCU members work attempted to divert to a non-OCU terminal that remains open, the OCU pickets would most likely follow the vessel to that facility.
Reid / ETC International Freight System
Transportation, Global Logistics, Shipping
Also on the domestic front news from JOC
Call it cooperation or collaboration, the concept of "co-loading" has arrived at the truck dock. As retail inventories and truckload capacity get leaner, more shippers are considering sharing tractor-trailers to secure capacity, keep a lid on rising transportation and logistics costs, and meet sustainability goals.
That means getting over qualms about sharing equipment and pricing and cost data with other shippers, and working closely with third-party logistic provoders and customers to find opportunities to pack the most product into each trailer. And that requires a great deal of advance planning, synchronization and an openness about supply chain strategies and resources that is often rare among shippers, who see such information as important to maintaining their competitive edge.
Technology helps make it possible, but more advanced technology may be needed to truly make it work and to ensure all parties share in the benefits of co-loading.
Kimberly-Clark calls the idea collaborative shipping, and it already has helped the shipper improve service while reducing truck miles, according to Scott DeGroot, director of supply chain strategy and development for the $21 billion manufacturer.
For more than two years, Kimberly-Clark has been working with Colgate and drugstore retailer CVS Caremark, consolidating truckloads. Through co-loading, "we've been able to reduce the number of truck miles by 10 percent," DeGroot said.
That represents real savings in terms of transportation costs and carbon emissions. The pilot project realized line-haul and fuel cost savings of 18 percent or more, according to data provided by Kimberly-Clark, but finding and keeping those savings isn't simple. "The cost of bringing the freight together can eat into the savings very quickly," DeGroot said. "It's not really a big cost savings story yet."
But there's more to gain, he said, than lower trucking costs per cubic foot. "It's not just money," DeGroot said. "The gains could come from improved inventory efficiency and retailer support," which generates more business from retailers.
For retailers, the most immediate benefit of supplier load-sharing is fewer trucks arriving at congested distribution center or store delivery docks. "CVS, like any other retailer, struggles at times with throughput in its distribution center network," DeGroot said. "Their docks are congested. Eliminating trucks that otherwise had to touch their docks frees up their DC network, eliminating constraints and allowing us to drive reliability in replenishment."
In an interview, DeGroot explained why Kimberly-Clark began co-loading and outlined the major obstacles facing companies interested in collaborative shipping. There are several reasons load-sharing will increase in the U.S., he said.
"First, we fundamentally believe that in the long run fuel costs will be much higher," he said. "Also, everyone hates inventory and wants to get inventory out of the system. Retailers are becoming more aggressive in service expectations. And Kimberly-Clark and other manufacturers are becoming more environmentally sensitive and have sustainability commitments that require us to take truck miles off the road."
Kimberly-Clark, which manufactures Kleenex tissues and other iconic consumer products, first encountered co-loading in Europe, where the power of large retailers and nature of the distribution network make shipper cooperation easier, DeGroot said. "When you're dealing with a Tesco, for example, they're almost in a position to mandate how products will flow to them."
That's increasingly the case in North America as well, as companies such as Wal-Mart raise the delivery bar with suppliers, setting tight delivery windows and penalties for missing them. "We saw what's happening here, so we said, 'Let's start shaping the agenda before it shapes us,' " DeGroot said. "Our team sat down and thought about companies that might be potential partners. We thought about who they might be across a spectrum, big and small. We identified a list of potential partners — a dance card of sorts. And then we thought about which retailers might be most interested, who could we solve real problems with. We came down to Colgate and CVS."
The companies launched a pilot project in Texas to determine whether co-loading was practical and beneficial. Colgate typically shipped a partial truckload of heavier products to CVS every two weeks that "weighed out" before cubing out, meaning there was plenty of air space in its trailer. Kimberly-Clark shipped three or four truckloads of higher volume, lighter weight freight to CVS each week.
"Our team and the Colgate team spent a lot of time looking at our processes and how our products flow" to CVS locations, DeGroot said. "Our vendor-managed-inventory analysts look at orders on Monday, and Colgate's team does the same. Then we come up with the number of trucks per week that can be shared between us." That allowed the shippers to eliminate a truck from the schedule every two weeks.
For Kimberly-Clark, that meant shifting some of its freight and delivery times as it planned inventory replenishment with CVS. "We had to take inventory out of our truck and make space for the Colgate orders," DeGroot said. Because there typically was space in Kimberly-Clark's trucks, the result was a fuller tractor-trailer. "When we sent four trucks a week, it was never really four trucks, but 3.7 or 3.8," he said. By blending pallets from one Colgate biweekly truckload with its four weekly truckloads, "we were simply able to fill them better and reduce the extras."
DeGroot identified four reasons success wasn't really simple. First, Kimberly-Clark and Colgate needed to find a way to configure loads. "Our transportation management systems are separate and unique, so they're not using matched data. That means we had to create manual spreadsheets to pull the freight together," he said. "There's no super system to optimize them together. The issue is that the work required for manufacturers to integrate their data is onerous."
Second, unexpected increases in operational costs can eat into the benefits. Those costs included shuttling freight about 20 miles from a Colgate distribution center to a Kimberly-Clark facility and handling charges such as lumping fees. "It's a thin line," DeGroot said. "Delay costs or operational charges can mean there's not much in the way of transportation costs to save, but a couple of peas to split between us."
Third, the partnership isn't just between two or more shippers and their 3PLs; it's between suppliers and retailers. That adds another level of complexity to planning a co-loading program. And consumer product goods suppliers serve multiple retailers.
"If every retailer wanted to create its own specific solution, by mandating certain consolidation programs, that kind of solution wouldn't create any incentives for the manufacturers," DeGroot said. "What we need to do is take (inventory) costs out of the system, rather than shifting them to the manufacturer. There's a great opportunity for manufacturers to take a leading role in this."
The last major challenge is sharing the gain among partners. "How you do that really has to be thought through carefully," he said. "If the process adds $20 of work a week to Colgate's order management team, that needs to be accounted for. That could be hidden in the numbers, and you have to try to make up for that."
Kimberly-Clark and Colgate came up with an algorithm that allowed them to determine how transportation costs would be divided. "The charges are divided based on a mixture of cube and weight that we think represents the flow."
Kimberly-Clark was sufficiently satisfied with the results of the pilot that the company expanded it to the Southeast and California and partnered with General Mills. The company looks to expand collaborative shipping. "The southern half of the country may be where we'll find the opportunity," DeGroot said.