Reid / ETC International Freight System
International Shipping, Freight Forwarders, Shipping Air, Ocean, Global Logistics
Below is your update regarding the lack of progress with the strike affecting the ports of Long Beach & Los Angeles. News by JOC
Striking OCU, Employers Agree on Mediation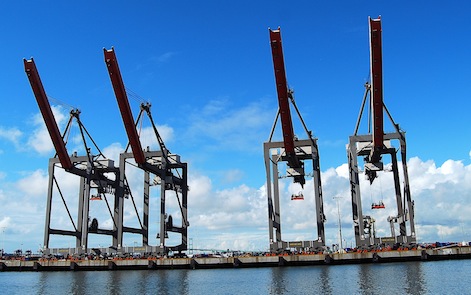 LOS ANGELES — Striking office clerical workers and their employers agreed Tuesday to accept federal mediation in an attempt to end the week-long strike that has crippled the ports of Los Angeles and Long Beach.
Port and terminal executives hope mediation can begin within 24 hours as the Office Clerical Unit of International Longshore and Warehouse Union Local 63 will maintain its pickets at 10 of the 14 container terminals in the harbor, and ILWU dockworkers are continuing to honor the pickets.
Los Angeles Mayor Antonio Villaraigosa participated in the negotiations all night, and he said progress was being made, but not enough progress to reach a settlement in the contract negotiations that have dragged on for more than two years.
Complete coverage of West Coast labor disputes
Meanwhile, more than 15 vessels have been diverted from Southern California to Oakland and ports in Mexico and Panama since the OCU struck the first terminal Nov. 27.
Dozens of trade and transportation groups have pleaded with negotiators to accept mediation in a dispute that has already cost the national economy billions of dollars. One hundred organizations signed a joint letter to President Obama seeking engagement from the White House, including a request for a Taft-Hartley back-to-work injunction if needed
West Coast Port Strikes Could Benefit Some Companies
JOC Staff | Dec 04, 2012 3:21PM EST
Continued strikes by the Office Clerical Unit of International Longshore and Warehouse Union Local 63 at the ports of Los Angeles and Long Beach could potentially benefit some companies, according to Stifel NicolausTransportation & Logistics Research Group.
For example, air freight forwarders Expeditors International of Washington and UTi Worldwide, as well as express carrier FedEx, could gain business from the supply chain disruptions, the report showed.
Non-asset-based logistic providers in particular can solve shippers' delay problems without worrying about having assets out of place, in case goods need to get to market quickly, the analyst said.
FMCSA's Safety Initiative a Work in Progress
William B. Cassidy, Senior Editor | Dec 03, 2012 4:54PM EST
In implementing 11 changes to the Safety Measurement System in its Compliance, Safety, Accountability program on Monday, the Federal Motor Carrier Safety Administration not only reaffirmed its commitment to keeping unsafe trucking companies off the road, but also indicated that the CSA initiative is a work in progress.
"We are improving our focus on the highest risk carriers," FMCSA Administrator Anne S. Ferro said. "We've made a clear commitment to continue to enhance CSA."
The commitment includes releasing a proposed rule that would create a new safety fitness determination process for trucking companies, Ferro told reporters.
She said a "very robust safety fitness rule" that would replace the current audit-based safety rating system would be proposed sometime in the first half of 2013.
The lack of a CSA-based safety rating system concerns shippers and brokers that fear a carrier's public BASIC scores could open them to liability in an accident lawsuit.
A three-part review of how crash accountability data can be incorporated into CSA scores, a major issue for motor carriers, will be completed by next July, she said.
Ferro defended the program against criticism from trucking and shipper groups that find fault with its methodology and lack of a new carrier safety rating system.
Told a recent American Transportation Research Institute survey found CSA was the top concern of trucking executives, she called that "great news."
"The discussion is rightly at the top of everybody's agenda," Ferro said. "It's on everybody's list and people are paying attention to the program."
Ferro attributed an 8 percent decline in the number of motor vehicle violations in roadside inspections and a 10 percent decline in driver violations to CSA. "That's the most dramatic decrease in violation rates in a decade," she said, adding that FMCSA's CSA Web site had more than 40 million visitors last year.
International Shipping, Freight Forwarders, Shipping Air, Ocean, Global Logistics