ETC International Freight System
International Shipping, Freight Forwarding, Air, Ocean Shipping, Global Logistics, Shipments
Please read JOC article
Clock Ticking for Trucking Hours-of-Service Changes
William B. Cassidy, Senior Editor | Apr 01, 2013 7:17AM EDT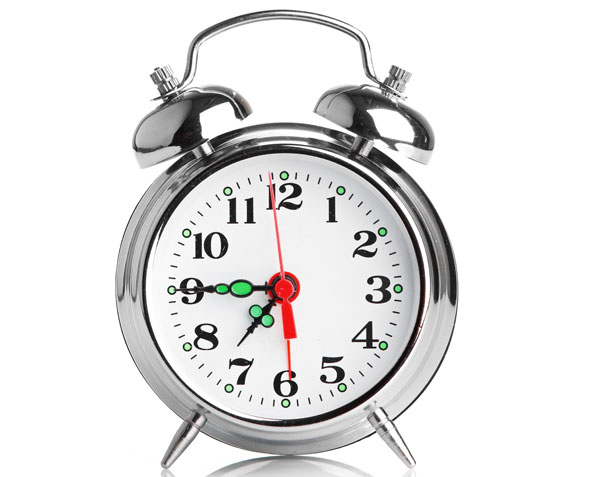 Basic trucking economics hangs on the number of turns a driver and truck can complete within a working week. If that number drops from, say, four turns to two or three because a driver needs more than 34 hours to restart his or her weekly duty clock, revenue per truck per week drops and the cost of operating that truck rises.
The new driver work rules, which will take effect on July 1 unless a federal court says otherwise, could impact different types of trucking and shipping operations in multiple ways. The most important perhaps is this: If or when drivers lose more than a day's driving time because of a longer restart period, their ability to accept and move loads will diminish.
The new rules won't cut into daily driving time, which remains limited to 11 hours, but changes to the 34-hour restart provision introduced in 2004 threaten to cut deeply into working time per week available to some drivers, especially long-haul truckers.
The new rules demand the restart period include two back-to-back 1 a.m.-to-5 a.m. periods. That means a driver who goes off-duty at 7 p.m. on a Friday would be able to start again at 5 a.m. Sunday, 34 hours later. If a driver goes off-duty at 1 a.m. on Saturday, he or she could restart the clock at 11 a.m. Sunday morning.
But a driver who goes off-duty before 7 p.m., or after 1 a.m., could face a much longer wait. A driver who ends a weekly duty shift at 2 a.m., for example, must wait 51 hours before returning to duty at 5 a.m. three days later. That's a loss of 17 hours, more than one 14-hour working day.
Shippers who dismiss this as a motor carrier scheduling problem, or as an issue primarily affecting domestic U.S. traffic, may be in for a shock come July. Any rules that potentially cut driving time for U.S. truckers could complicate international supply chains, adding delays and costs for more than just one leg of a multimodal shipment.
"The potential impact on shippers is huge," said Jack Holmes, president of UPS Freight, the Richmond, Va.-based $2 billion less-than-truckload arm of international package giant UPS. "It's something I'm not sure shippers completely understand yet."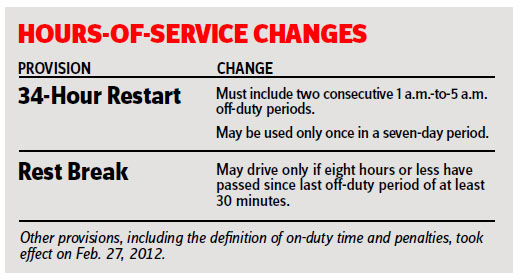 "The challenges for exporters this year are not on the ocean," but the highway, Peter Friedmann, executive director of the Agriculture Transportation Coalition, said in a presentation during a March 20 Journal of Commerce Webcast on the trans-Pacific maritime market. Tight truck capacity will make it more costly to move agricultural goods to ports, especially if the new HOS rules effectively cut capacity as measured in time, not trailers, he said.
There are a lot of "maybes" in any analysis of how the new hours-of-service rules will affect drivers, trucking companies, shippers and supply chains. If shippers don't understand the potential impact, it's probably because their trucking partners aren't certain either.
The impact "is going to be different based on the customer and the business," said John White, president of U.S. Xpress, the sixth-largest U.S. truckload operator. "If most of your business is Intermodal Shipping, local or dedicated, you're not going to feel as much of an impact. But if you're a large over-the-road truckload carrier, you're going to feel it more. Some drivers are going to have to do restarts on the road."
Shippers most likely to be stung by the new rules are those most dependent on long-haul truck drivers, just-in-time deliveries and early morning deliveries.
Various estimates of the effect the new rules will have on truckload utilization start with a productivity cut of 3 to 5 percent and climb higher from there. If trucking productivity drops that much, carriers won't just absorb higher costs; they'll also charge for them, if only to keep their drivers and make them "whole" in terms of pay.
The most likely result: Supply chains lengthened by slow-steaming container ships will get even longer, and rising truck rates will squeeze third-party margins and shipper transportation budgets unless costs can be sliced elsewhere. Shippers may turn to intermodal rail in greater numbers, and the truckload business over time will become more and more regional. Dedicated and private carriage and even less-than-truckload carriers could benefit as shippers seek available and affordable trailer space.
"Any time you have truckload capacity coming out of the market, you'll have larger shipments falling into the LTL market," Holmes said. "In 2008, you saw a shift from LTL to truckload as truckload carriers tried to get large LTL shipments. You'll see the reverse occur" if truckload capacity shrinks even more because of new HOS rules, he said.
The new HOS rules will cause carriers "to focus on how the shippers are utilizing their equipment," Mike Regan, president of Tranz-Act Technologies, said in a YouTube video released in March. "How long are you taking to load or unload a carrier or turn the equipment in the yard? Are there things you can do to work with the carrier to improve productivity and get additional miles with each and every piece of equipment?"
"One of the things that's going to have to come out of this is better utilization" of existing fleet equipment, White said. "We're not utilizing the 70 (70-foot combination of a tractor with a 53-foot trailer) to its fullest extent today. We'll have to enact changes in shipper behavior and our behavior to offset some of the productivity losses."
In a worst-case scenario, shippers may have to make significant changes to distribution networks to bring inventory even closer to consumers. "Typically, a shipper sets up Distribution Centes to get maximum reach," Holmes said. After July 1, "you may have shippers with DCs in the wrong location." Businesses may simply have to change how they ship freight, consolidating weekly shipments to make the best use of available capacity. They may have to schedule shipments earlier to secure tractor-trailers, which could become more difficult and much more expensive as capacity tightens. For want of a truck, sales and customers could be lost. Shippers may even look to share trailer space more often, mixing freight to maximize cube and lower costs.
And shippers might well ask, "Haven't we been through this before?" In a sense, they have. When truck driver daily hours of service were cut to 14 hours a day from as many as 17 hours, including breaks, in 2004, trucking companies took a productivity hit, even with an 11th driving hour added to the daily clock. "Truckers Out of Time?" and "Truckers' Hour of Anger" headlines blared, along with a warning that "new driver rules may shift short-haul shippers to rail."
When the "11/14-hour rule" was introduced in 2004, however, there was no immediate shortage of truckload capacity. When a "capacity crunch" developed in 2005, rising demand was responsible, and carriers responded by adding more trucks through late 2006, before 2007 emissions standards took effect.
Ultimately, the Great Recession killed freight demand, leading first to widespread overcapacity and then a stunning drop in available trucks that hasn't hit bottom yet.
Truckload capacity hasn't recovered since the recession. The JOC Truckload Capacity Index hit a four-year low of 82.4 in the fourth quarter. That means available truckload capacity in late 2012, as measured by the index, was nearly 18 percent below its 2006 peak, and still falling from quarter to quarter. Higher truck prices, weak freight demand and difficulty hiring and keeping drivers on payroll placed hard limits on any capacity growth in the recovery. Trucking economist Noël Perry says carriers are replacing vehicles at half the rate of the previous recovery in 2004-06. The new HOS rules will exacerbate the trend by requiring more trucks — tractors for which carriers may not have drivers or enough capital to buy at current levels of return — just to haul the same amount of freight available today, not to mention anticipated volume.
Truckload carriers are keeping a tight grip on capacity levels until they're able to achieve margins that allow them to reinvest in their businesses, raising driver pay and buying new trucks. For smaller carriers, facing truck prices that are much higher than in 2006 after two rounds of diesel engine emissions restrictions in 2007 and 2010, adding capacity may not be an option — even if demand bumps up in the second half of 2013.
That means a third big wave of truck rate increases since 2000 is more likely following a tightening of the driver work rules than many shippers may realize. The only thing that slowed truck yield and price increases in 2012 was weakening freight demand, which created what shippers called "a tenuous equilibrium" in capacity. Increased freight demand this fall, coupled with new HOS restrictions, could quickly shatter that equilibrium.
There's still a faint chance the new restart provision could be sent back to the Federal Motor Carrier Safety Administration for revision. A three-judge panel of the U.S. Court of Appeals for the District of Columbia Circuit on March 15 heard challenges to the new rules from the American Trucking Associations and its allies, including the Owner-Operator Independent Drivers Association and shipper groups such as the National Industrial Transportation League and NASSTRAC, and Public Citizen, which wants more stringent rules enacted, with a maximum of 10 hours of driving time and no restart provision.
Although the appellate panel hadn't issued a decision by March 27, the judges' skepticism during the hearing left many observers believing the rules would take effect as scheduled. The FMCSA earlier turned down an industry request for a three-month delay in implementation following a court decision. The ATA estimates trucking companies alone will spend $320 million between March and July 1 to train truck drivers to comply with the new rule. That doesn't include costs to state law enforcement agencies, shippers and others in the supply chain, the association said in a statement.
U.S. Xpress, based in Chattanooga, Tenn., is among those getting ready for the July 1 compliance deadline, rushing to prepare drivers, dispatchers, managers and customers. "We're making sure our electronic logs are modified to accommodate the new requirements, and we're starting to run some test fleets," White said. "I wish I could tell you we've identified every customer impact, but that's not the reality. I think we'll be in a much better position as we approach the midpoint of May."
Regulation & Policy›Transportation Regulations›United States