Marine Terminal Operators (MTO) at the Ports of Los Angeles and Long Beach have announced intended adjustments to terminal maintenance fees for ocean shipment of full container loads.
The increases are scheduled to take effect on August 19, 2013, and will affect 20-foot & 40-foot ocean containers.
Ocean Container Load TMF Adjustments
The West Coast Marine Terminal Operators Agreement (WCMTOA) recently announced an 8.1 percent increase in the Traffic Mitigation Fee (TMF) at the Ports of Los Angeles and Long Beach, which are intended to sustain continued operation of PierPass OffPeak gates as labor costs continue to rise.
Once these increases are applied, the Traffic Mitigation Fee adjustments will be as follows:
$5.00 increase per TEU (20-foot equivalent unit), to $66.50 per 20-foot container, (currently set at $61.50 per 20-foot container)
$10.00 increase, to $133.00 per 40-foot container, (currently set at $123.00 per 40-foot container)
Due to increases in maritime labor costs over the past couple of years, the WCMTOA has been making annual adjustments to the Traffic Mitigation Fee to accommodate the higher labor rates.
The Pacific Maritime Association, which negotiates and administers maritime labor agreements with the International Longshore and Warehouse Union (ILWU), announced the most recent wage adjustments for maritime workers in May 2013, amounting to an 8.2% increase in wages and benefits for the 2013-14 contract year.
The Traffic Mitigation Fee helps pay for nighttime and Saturday marine terminal shifts needed for the the PierPass OffPeak program, which is designed to relieve typical daytime congestion in and around the ports of Los Angeles and Long Beach.  Since the Traffic Mitigation Fee is charged for moving non-exempt cargo containers during peak hours, (which are Monday through Friday from 3 a.m. to 6 p.m.), it also provides financial incentive for importers and exporters to move cargo during less-congested hours.
Since the program's inception in 2005, the OffPeak terminal gates have been taking a loss due to twice the number of shifts being worked per week for the same number of cargo containers being moved, with nighttime shifts being paid at a higher rate. The shortfalls between Traffic Mitigation Fee revenues versus OffPeak terminal gate costs have sharply increased over the past 3 years:
In 2010: $52,000,000
In 2011: $55,000,000
In 2012: $66,000,000
Before PierPass was created, the ports and nearby roads were gridlocked, with ships backed up in the harbor and unable to unload cargo, and cargo owners experienced long delays in shipping and receiving critical merchandise. PierPass OffPeak terminal gates help to alleviate such congestion, and as a result, approximately 55% of all cargo container traffic at the ports, (and more than 23,000,000+ truck transactions) have been shifted to OffPeak hours, meaning higher labor costs to accommodate the spread of activity across Peak and OffPeak hours.
The increase in Traffic Mitigation Fees for full cargo container loads is necessary to accommodate labor cost increases while decreasing the congestion caused by Peak hours cargo movement.
About PierPass
PierPass is a not-for-profit company created by marine terminal operators at the Ports of Los Angeles and Long Beach in 2005 to address multi-terminal issues such as congestion, security and air quality. The West Coast Marine Terminal Operator Agreement (WCMTOA) is filed with the Federal Maritime Commission, and comprises the 13 international MTOs serving the Ports of Los Angeles and Long Beach.  For more information visit www.pierpass.org.
Importer and Exporter Terminal Fees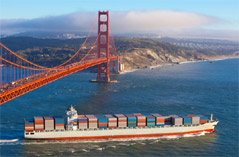 At ETC International, our overseas shipping container network has been serving companies in need of commercial and industrial cargo imports since 1984. With nearly 30 years experience in overseas import and export container shipping, we have an expert understanding of all the ins-and-outs of commercial ocean shipping, and we can provide valuable information to help cargo owners determine the best strategies to import and export their merchandise safely, promptly and at the lowest possible costs available.
We are happy to discuss the latest Terminal Maintenance Fee increases and what affects these may have on your company, then make recommendations based on your individual business needs. We also provide a no-hassle rate quote online for ocean shipping services.
To submit your questions or request a rate quote, click the button below: