ETC International Freight System
Your source for international air, ocean shipping at www.etcinternational.com
Our shippers are experiencing delays at the port of Los Angeles and Long Beach with a serious strike from truck drivers suggesting workplace violations.
Source:http://www.latimes.com  /business/la-me-port-truck-driver-strike-20140427,0,3804654.story#axzz30Iagh6Uw
Today issues at the port with delays. Truckers to picket ports of  L.A. and Long Beach
In the largest demonstration yet, truck drivers who haul cargo in and out of the ports of Los Angeles and Long Beach will go on a limited strike Monday to protest what they contend are widespread workplace violations.
The truck drivers, from some of the region's largest trucking companies, have accused the companies of illegally misclassifying them as independent contractors instead of as employees. That misclassification results in lower wages and denies them protections that employees get under state and federal labor laws, they contend.
Tensions between drivers and the drayage companies have escalated in recent years. Industry experts estimate that only 10% of truckers are directly employed by companies, and truckers who are classified as independent contractors have filed lawsuits and complaints with state and federal labor agencies to change their status.
GET a quote
In California, port drivers have filed more than 500 complaints for wage theft related to misclassification, according to the state Department of Industrial Relations. So far, 32 drivers have won decisions against 13 trucking firms, securing $3.8 million in wages and penalties, the agency said.
"The era of misclassification is over," said Rebecca Smith, deputy director for the National Employment Law Project. "When you see that nearly every relevant federal and state agency is coming to the same conclusion — that these workers are misclassified — the industry should be sitting up and taking notice."
Justice for Port Truck Drivers, the group organizing the strike, has mounted a campaign to draw attention to the issue.
They have already picketed at local trucking companies' workplaces, and on Monday their protest will arrive at the cargo terminals inside the ports, organizers said. The strike is intended to last 48 hours, organizers said. Truck drivers in Savannah, Ga., are also planning to protest on Monday.
Organizers notched a victory last month when Pacific 9 Transportation, a major trucking company, agreed to post notices acknowledging the workers' right to organize.
Alex Cherin, a spokesman for the trucking companies, couldn't be reached for comment. But last month Cherin said that most drivers were happy with their jobs and that recent actions were part of a Teamsters union plan to push the truckers to organize.
Still, for truck drivers like Dennis Martinez, a 28-year-old Los Angeles resident, the fight is simply to earn good pay for a long day's work.
Martinez has hauled cargo for three years and says he often works more than 10 hours a day, six days a week.
Because he is classified as a contractor by the company he hauls cargo for, Martinez says, he is expected to pay for fuel, maintenance and insurance on the truck he drives. He says he typically makes about $400 a week, which works out to an hourly rate below the state's minimum wage of $9 an hour.
"This system the companies have has to change," he said. "It's been hard for me and for my family because there's not enough, even if I work every day and work long hours."
California began cracking down in 2008 on trucking companies that misclassified employees as independent contractors. Jerry Brown, then the attorney general, filed at least five suits against Southern California trucking companies on allegations of circumventing labor laws.
Shippers exhibiting overseas, or sending your camera equipments be aware of: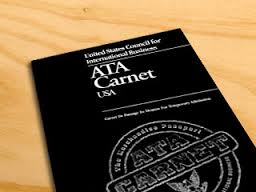 GET a quote
Delayed Enforcement for ATA Carnet Shipments
The United States Council for International Business  (USCIB) confirmed that beginning April 5th, 2014, the Census Bureau and CBP have declared an "Informed Compliance Period" during which no penalties will be issued for ATA Carnet Shipments who fail to comply with the March 14, 2013 Electronic Export Information (EEI) filing requirement.
The FTR Letter No. 8 Notice of 180 Day Informed Compliance Period for Regulatory Changes, states that "during this 180 day period the Census Bureau and CBP will use "informed compliance" to educate the trade on the new requirements". Furthermore, "the period of informed compliance will take place from the revised FTR effective date of April 5, 2014 through October 2, 2014". This does not change the EEI filing obligation for ATA Carnet shipments that require an export license.
The final rule under the U.S. Foreign Trade Regulations altered previous standards where most goods traveling under a carnet were exempt from filling the EEI requirement.
Under the EEI requirement, Carnet shipments are not exempt, although there are still some exemptions that certain ATA Carnet shipments can still be eligible for:
"Low Value Exemption": goods valued at or below
       $2500 are exempt. With multiple Schedule B/HTSUS numbers, as long as no
       single item on the General List is valued at more than $2,500, there is
       no need to file EEI.
"Hand Carried Tools of the
       Trade":
       Goods that are defined as "tools of the trade" traveling under a U.S.
       Carnet are exempt unless they are subject to licensing or other export controls.
"Canada": Shipments that travel
       under a U.S. Carnet where the final destination is Canada are exempt.
EEI Requirement Background:
Electronic Export Information (EEI),
formerly collected as Shipper's Export Declaration (SED), supports the Census  Bureau by collecting and compiling export trade statistics under the  provisions of Title 13, United States Code (U.S.C.), Chapter 9, Section 301.
This is collected via the Automated Export System (AES), which is the primary system of tracking. The data collected via AES is also utilized by the Bureau of Industry and Security and other federal agencies to monitor and help prevent unauthorized exports of certain items.
If you are about to export to multiple countries and return the shipments, an ATA Carnet to specific countries (see list of the country below) will become an essential tool to enter foreign countries as well as re-entering the USA on a duty free status. Email ETC International Freight System at Sales@etcintl1.wpengine.com
Below is a complete list of ATA Carnet accepting countries:
1. Algeria    34. India    66. Norway
2. Andorra    35. Iran    67. Poland
3. Australia   36. Ireland      68. Portugal
4. Austria    37. Isle of Man   69. Puerto Rico
5. Bailiwick of Guernsey  38. Israel   70. Reunion Island
6. Bale4aric Isles   39. Italy    71. Romania
7. Belarus    40. Ivory Coast   72. Russia*
8. Belgium    41. Japan   73. St. Barthelemy
9. Botswana   42. Jersey   74. St. Martin
10. Bulgaria        43. Korea      75. St. Pierre
11. Canada    44. Latvia   76. Senegal
12. Canary Islands   45. Lebanon   77. Serbia
13. Ceuta    46. Lesotho   78. Singapore
14. China    47. Liechtenstein 79. Slovakia
15. Chile    48. Lithuania   80. Slovenia
16. Corsica        49. Luxembourg   81. South Africa
17. Croatia    50. Macao   82. Spain
18. Cyprus    51. Macedonia   83. Sri Lanka
19. Czech Republic   52. Malaysia   84. Swaziland
20. Denmark      53. Malta      85. Sweden
21. Estonia    54. Martinique   86. Switzerland
22. European Union   55. Mauritius   87. Tahiti
23. Finland        56. Mayotte      88. Taiwan**
24. France    57. Melilla   89. Tasmania
25. French Guiana   58. Miquelon   90. Thailand
26. French Polynesia   59. Monaco   91. Tunisia
27. Germany   60. Mongolia   92. Turkey
28. Gibraltar   61. Morocco   93. United Kingdom
29. Greece    62. Namibia   94. United States
30. Guadeloupe   63. Netherlands   95. Wallis-Futuna Islands
31. Hong Kong   64. New Caledonia
32. Hungary    65. New Zealand
33. Iceland
Countries in italics are part of the European Union (EU).
*The U.S. Council for International Business strongly recommends certain guidelines when traveling to
Russia.
**Taiwan, through a bilateral agreement with the United States, accepts TECRO/AIT Carnet.
The list is subject to change.