On Monday, June 17, 2013, the Mitsui O.S.K. Lines containership MOL Comfort was fractured in 2 parts of the cargo vessel hull during severe weather conditions while sailing on the Indian Ocean.
The ship was broken into two separate sections, which were heavily laden with cargo containers and drifting for days as a salvage company and tugboats were deployed to the site for tow and rescue.
Why Overseas Cargo Insurance is Critical
On June 27th, ten days after the incident, the aft segment of the ship began rolling heavily in still-adverse weather, and taking on water in the cargo hold while cargo containers progressed falling into the ocean from the ship's deck. Ultimately the stern listed and then sank, taking about 1,700 containers and 1,500 metric tons of fuel oil into the ocean with it. The MOL Comfort's after section now rests at an extreme ocean depth or 4,000 meters, on the Indian Ocean floor.
While many cargo containers were still seen floating at the ocean's surface following the sinking, the majority sunk and will not be salvageable. Fortunately, no lives were lost in the incident, and there are as yet no reports of major oil leakage near the site. But the loss to Mitsui O.S.K. Lines and the many importers/exporters whose merchandise was lost in the Indian Ocean will be substantial, particularly if those merchandisers did not secure adequate overseas cargo insurance as part of their shipping and fulfillment strategy.
To minimize the possibility of a future recurrence of this event, Mitsui O.S.K. Lines has taken the following action steps and precautions following the incident:
Mitsui O.S.K. Lines, Ltd. together with shipbuilder, Mitsubishi Heavy Industries and the classification society (Nippon Kaiji Kyokai, ClassNK), are conducting a thorough investigation to find the cause of the MOL Comfort incident.
Extra preventive measures are being taken in the meantime, with operational precautions set in motion to reduce stress on the hulls of the MOL Comfort's 6 sister vessels:

MOL Creation
MOL Charisma
MOL Celebration
MOL Courage
MOL Competence
MOL Commitment

Mitsui O.S.K. Lines, Ltd. is conducting structural upgrades and reinforcements on these 6 cargo vessels to enhance the strength of the hulls to twice as much as the safety standard required by ClassNK in compliance to the International Association of Classification Societies (IACS).
While the aft segment of the cargo vessel was sinking, the fore section remained stably afloat with most cargo container remaining intact. The vessel was being towed steadily until July 1st, when a tow line was temporarily disconnected; but this was subsequently corrected and to date towing operations are still underway.
Overseas Cargo Insurance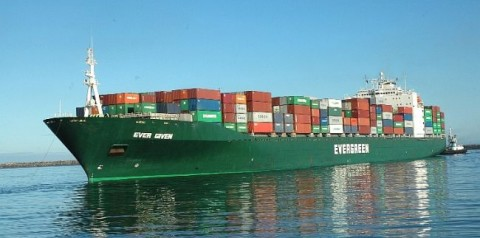 At ETC International, our greatest concern is not only for the protection of our shipping customers' merchandise, but also for the oceans over which that cargo is transported. We care about our clients, and we care about keeping our oceans clean – so we dedicate our utmost effort, time and expertise to ensuring that your cargo safely reaches its intended destination.
But even with the most powerful equipment, state-of-the-art technology and utmost attention to detail and procedures, an uncontrollable act of nature or unforeseeable catastrophic event can still occur, and it is for this reason that we highly encourage anyone shipping containers across the ocean to obtain overseas cargo insurance. We make it simple to do so by providing all necessary information so our shipping customers may make the most informed decisions possible, and we assist in the process by enabling commercial and private parties to obtain overseas cargo insurance through our company as part of our shipping services.
You can request a custom quote online for the All Risk (including War Risk) and FPA (Total Loss/Catastrophic) Coverage overseas cargo insurance we make available by sending us a message with your questions and concerns. Click the button below to submit your message and we will promptly send a detailed response to your inquiry.