Ocean Import shipping from China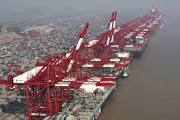 China's top ports see slow, steady export growth



Content sourced by JOC 
China's slowly but steadily improving exports trade continues to push container traffic through the country's top ports, with June throughput growing 7.8 percent year-over-year and fueling
optimism that the foreign trade recovery will extend into the second half of the year.
According to Citi Research data,
throughput at China's top eight container ports grew to 11.51 million 20′ ocean containers equivalent (TEUs), higher than the 4.6 percent year-over-year growth seen in May.
"This is in line with China's improving export trend due to the continuing recovery seen in advanced economies, where the purchasing manager's new export order index jumped by 1 percentage point to 50.3 in June. Going forward, we turn positive on ports and expect volume to continue to improve given the continuing recovery in the European and U.S. economies," Citi Research China analyst Vivian Tao said.
Volume growth was helped by a rush to place orders before the summer's general rate increases, and the West Coast dockworker negotiations in the U.S. However, the bank's research division found China's domestic trade still weak, up just 3.4 percent in June. Overall, the second quarter was better than the first, led by greater trade numbers.
A breakdown of the three port regions of China reveals that growth in the Yangtze River Delta grew the fastest at 12.1 percent year-over-year. Shanghai and Ningbo saw double-digit growth during June, with Shanghai recording an 11 percent improvement and Ningbo up an
impressive 14.2 percent year-over-year, Tao said.
The Pearl River Delta did not fare as badly as expected, buoyed by the growing foreign trade and exports from its tens of thousands of factories. Overall, the volume at PRD ports (basically
Shenzhen and Guangzhou) grew 4.6 percent year-over-year, with Nansha II up a solid 14.5 percent. Even Shenzhen returned to positive growth as 2.3 percent more containers crossed its wharves than in the same month last year.
The West Shenzhen ports of Shekou, Chiwan and Dachan Bay continued to record negative numbers, a result Citi Research attributes in part to their larger exposure to slumping ASEAN trade. By contrast, Yantian, on the eastern side of Shenzhen, has more services to the
U.S. and the European Union and kept its throughput up, accelerating from 6.1 percent in May to 8.1 percent in June.
Domestic trade exposure dragged down the Bohai Rim ports of Dalian, Tianjin and Qingdao, which recorded a 3.9 percent growth in throughput over June last year. Qingdao grew the slowest at 3.4 percent, with Dalian at 5.1 percent and Tianjin showing 3.6 percent growth
Needing an import air or ocean rate from China, use the button below:
Import container rate sampling
POD: Place of delivery
POL: Place of loading
POD PORT ELIZABETH,NJ//BALTIMORE/CHARLESTON/HOUSTON
POL SHENZHEN/NINGBO/HONGKONG
USD2650/2990/2998,CSAV,40DAYS
POL SHANGHAI
USD2700/3500/3360,CSAV,40DAYS
POL XIAMEN/QINGDAO
USD2550/3100/3100,41DAYS,CSAV
POD SAVANNAH
POL HONGKONG/SHENZHEN/XIAMEN/QINGDAO
USD2900/3550/3600/4200,KLINE,31DAYS
USD2900/3550/3600/3950,COSCO,33DAYS
POL NINGBO/SHANGHAI/DALIAN
USD2950/3650/3700/4600,MAERSK,DIR,36DAYS
USD3150/3750/3850,COSCO,DIR,30DAYS
All above rate valid up to July 31th 2014
Air freight import rates & depending which airport you import from, air freight rates may vary from 3.10 to 4.90 per kilo with a minimum of $ 180.00 per shipment. Rates from China notoriously change twice per month & we recommend to request an air freight rate by using the button below