Slack U.S. import demand and too much vessel capacity undermined most of the general rate increase that container carriers implemented on Jan. 15, sending average spot freight rates in the eastbound trans-Pacific trade down this week, the third consecutive week of decline.
Transpacific Stabilization Agreement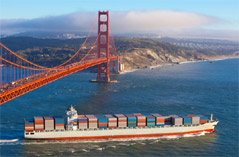 Carrier members of the Transpacific Stabilization Agreement are already planning more GRIs in the trans-Pacific, but the sheer volume of new vessel capacity that is due for delivery this year is likely to make it difficult for them to hang onto those increases unless U.S. import demand picks up more than forecast or carriers can limit capacity growth in the trade.
Drewry's Hong Kong-to-Los Angeles Container Rate Benchmark declined to $2,260 per 40-foot-equivalent unit this week, down 1.6 percent from last week, and down 10.5 percent , or $264 per FEU, from Jan. 15, when carriers implemented a general freight rate increase of $600 per FEU recommended by the Transpacific Stabilization Agreement.
After the Jan. 15 GRI, carriers succeeded in holding onto about half of that increase, as the Drewry benchmark leveled off at $2,524 per FEU for a couple of weeks before dropping for the last three weeks during and after the Chinese New Year holiday, from Feb. 10-16 when factories closed down. After this week's decline, the Drewry benchmark is only 2.1 percent or $47 per FEU higher than the benchmark rate of $2,213 prevailing at the beginning of the year.
Carriers have tried to mitigate vessel overcapacity by canceling sailings to the U.S. West Coast during the slack winter season. "February saw a huge move toward canceled or skipped voyages, when carriers aren't operating with their full complement of ships," said Simon Heaney, research manager at Drewry. Carriers skipped 36 voyages in the Asia-U.S. East Coast trade during February, which reduced capacity by 10 percent, or about 100,000 TEUs for the month. "The impact on freight rates was beneficial, but since then it has waned."
The rate of vessel utilization in the trade, which averaged 91 to 92 percent in January, came down to around 80 percent in February. "It would have been a lot worse had they not canceled those port calls," Heaney said.
Complete coverage of trans-Pacific maritime trade
Carriers will have a difficult time limiting the increase in vessel capacity in the trans-Pacific trade this year because of the number of large new container ships that are scheduled for delivery and deployment in the Asia-Europe trade, which will, in turn, cause carriers to cascade smaller tonnage into other trades.
As a result, there is likely to be too much vessel space chasing too little demand in the trans-Pacific. "Demand for vessel capacity on the trans-Pacific is expected to increase by 2.1 percent this year," Alphaliner executive Consultant Tan Hua Joo told The Journal of Commerce's 13th annual TPM Conference in Long Beach last week. He estimated that vessel capacity on that route would increase 6 percent because of the cascading of tonnage that is being replaced by new vessels deployed in the Asia-Europe trade. New services and vessel upsizing have already added 9 percent to trans-Pacific capacity this year.
Tan said the capacity overhang would continue to dictate the freight rate cycle through 2013. He predicted there would be more GRI announcements through the year, but that the "GRI success rate will be lower than 2012."
The next test of TSA carriers' ability to nail down freight rate increases will come on April 1, when they will seek a GRI of $400 per FEU for shipments from Asia to West Coast ports and $600 per FEU to all other destinations. The April 1 GRI is designed to set the stage for the negotiations for annual freight rate contracts in the trans-Pacific, which usually start on May 1.
###
ETC International provides overseas cargo freight transport at the best possible freight rates available in the current shipping market. For a list of our shipping container sizes and weight restrictions, and to request a freight transport quote, click the button below or call us Nationwide at (800) 383-3157.