Maersk Line and Mediterranean Shipping Co.
2 carriers announced their 10-year sharing agreement. Will it meet the same fate as the P3
Maersk and MSC will have to show that the arrangement won't be so tightly structured that the Ministry of Commerce would view the agreement, known as 2M, as a virtual liner.
Data from Alphaliner and PIERS provide some idea of how much capacity and laden container market share the two would control. In its P3 analysis, it found that on the Asia-Europe trade
Maersk would have controlled 20 percent of market share and MSC would have had 15 percent. If this analysis holds for 2M, they would control 35 percent of capacity on the world's largest trade lane.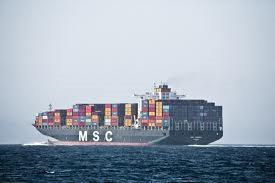 The 2M would fall under the European Union's antitrust exemption for liner shipping, which
applies to VSAs that control less than 30 percent of capacity on one trade lane.
"If market shares are above this, Maersk/MSC will need to self-assess their agreement," Wels said. "On the basis that the EU intended not to start proceedings against the P3, it is assumed that this is unlikely to present overall problems — save for a more detailed analysis by
regulators of the VSA's impact, including its impact on specific trade routes and in particular on "thin routes."
If the 2M has EU antitrust liner immunity — in other words, if the two carriers ensure their combined market share is at or under a 30 percent share, the agreement could take effect immediately. European regulators, however, could shut the VSA down anytime if they find it violates Article 101 of the Treaty on the Functioning of the EU.
The FMC could stop the clock on the review to ask Maersk and MSC further questions. Once the
questions are answered, the review would restart with 45 days on the clock. FMC commissioners would decide whether to allow the 2M to proceed by determining whether it would likely cause an unreasonable increase in transportation costs, an unreasonable decrease in service or both. Since 1984, the FMC has never sought an injunction against a VSA. That includes the now-defunct P3, in which Maersk, MSC and Mediterranean Shipping Co. proposed a massive, tightly-structured VSA on the three major trade lanes.
The above mentioned content is not the full article or exact wording that you can found with JOC.
——————-
Shipping big! What makes a top performer? Intense curiosity & constant learning will set you apart
If you know about football, you know that being third-round draft choices and sixth-round draft choices and free agents … well, that pretty much said one thing. It said they didn't think we were good enough — not big enough, not strong enough, and not fast enough. So how in the world did we get to where we are?
Because we figured out that intense curiosity and constant learning set you apart from everyone around you. Talent will only get you so far; you've also got to differentiate yourself, not just by learning, but by learning better. You can't be a rote learner. Becoming a top freight performer involves multi-level, innovative learning.
ETC International Freight System' staff intense & constant learning (sur le pied de guerre on the warpath)
In the world of mass production, poor expertise & lack of personal engagement adds unexpected costs & aggravation.  ETC Intl. Freight System, has no aspiration to be the K-Mart of the freight forwarding business. 
We are independently owned & although part of an industry highly regulated, we help you close the gap to manage your shipments from inception to end. Our employees' knowledge & dedication are of paramount importance in the services that we render, which bear our name. Customer satisfaction is the guiding principle for all our activities.
Shippers contact us, request a freight quote by using the button below: