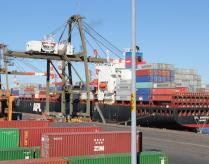 With many of this year's annual trans-Pacific freight rate contracts yet to be signed for Pacific cargo shipping carriers, U.S. import demand is flat to down year-over-year, and spot rates appear set to resume their downward trek after last week's increase.
"With many ocean freight agreements that start on May 1 yet to be renegotiated, ocean carriers could not have chosen a worse time to escalate the war with each other over market share," Drewry said in its Container Insight Weekly on Monday. "As one ocean carrier executive recently lamented: 'We couldn't have scripted it better.' "
Pacific Cargo Shipping Freight Rates
Drewry's spot rate benchmark for shipping a 40-foot-equivalent container unit from Hong Kong to Los Angeles increased $150, or 13.2 percent, to $2,150 in the week to May 22. This represented almost 63 percent of the general rate increase of $400 per FEU implemented by some Pacific cargo shipping carriers on May 21.
But Drewry questioned whether the increase would hold.
"Although this looks encouraging for ocean carriers, it may well turn out to be yet another false dawn, like so many other recent GRIs."
Pacific cargo shipping carriers have not reduced vessel capacity on the trans-Pacific route enough to support these GRIs, and they are now adding more services and bigger ships, even as demand stays flat to down, the London-based research analyst said.
Pacific cargo shipping carriers canceled only seven vessel sailings in April 2013, and vessel capacity increased to more than 1.1 million 20-foot-equivalent units. Evergreen Line and China Ocean Shipping Co. started a new service, the CPS2, between Southern China and the U.S. West Coast in mid-May that deploys a string of five vessels averaging 4,400 TEUs. This adds 1.6 percent more vessel capacity to what was available in April.
Cosco also reportedly plans to upgrade the average size of Pacific cargo vessels deployed on its CEN service from 5,845 TEUs to between 7,500 TEUs and 8,500 TEUs, which will increase Pacific cargo vessel capacity by another 1 percent over April.
Drewry said the increases in trans-Pacific capacity are likely to cause the average 83 percent eastbound vessel utilization rate of March to fall below 80 percent by the end of May, which will further weaken Pacific cargo shipping carriers' freight rate demands in the annual contracts that are still being negotiated.
"Although eastbound trade will be bolstered by a peak season boost of sorts, vessel capacity needs to be taken out now to restore the trade lane to profitability following a poor beneficial cargo-owners contract negotiating season," Drewry said. "Between two and three loops should be withdrawn."
For more details and information on the topic of Pacific cargo shipping, visit the Journal of Commerce website.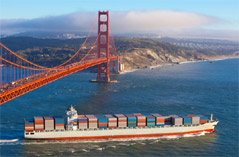 At ETC International, our Pacific cargo shipping network has been serving companies in need of commercial and industrial trans-Pacific cargo transport, both domestic and internationally, since 1984. With nearly 30 years experience in Pacific cargo shipping, we have an expert understanding of all the ins-and-outs of commercial ocean vessel transport. As a result, we are able to provide invaluable information to our commercial clients to help them make the most of their shipping dollars. We possess the know-how, so you don't have to.
We are happy to start by providing a no-cost, hassle-free rate quote on Pacific cargo shipping for manufacturers, retailers and wholesalers. From there, we can discuss additional considerations of the shipping process, so your business can ship goods to paying customers reliably.
Get your convenient Pacific cargo shipping rate quote online here: