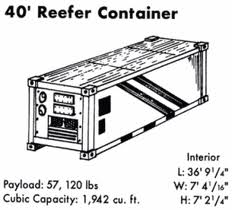 Shippers' option what to use: a Container or a Break-bulk Vessel.  
For the shippers out there with the belief that that loading chilled refrigerated cargo on break-bulk reefer vessels is better than loading into refrigerated (reefer) ocean containers might be better, think again.
Carriers with Break-bulk operators may want you to believe reefer break-bulk vessels are still the preferred option.
When you have fruit in ocean reefer containers loaded right from the farm, customs seal applied on the spot, then returned refrigerated to the port, you maintain the cold link right to the consignees' overseas sites.
Fruit as break-bulk
First, you use a regular refrigerated truck, loaded and trucked to refrigerated facilities at the port. The fruit have to be off-loaded and re-loaded. Ports are mostly congested & most vessels have 1 day to complete the entire load. Then you have to repeat the re-stuffing from the facilities to a trailer alongside the vessel to get it loaded, & d riving the cost with added labor and time with the augmentation of risk to the shipment. At destination, this process of off-loading, driving to a facility, off- loaded, re-loaded after the clearance & delivered… You can do the arithmetic.
Refrigerated ocean container shipping
Your best option is shipping your fruit using ocean refrigerated containers.
1×20' refrigerated container disappearing
Commodities like Seafood, Meat used the 20' Reefers as the standard used for transportation of heavy commodities. Nowadays, we have seen the volume of 40' High Cube Reefers as well as the demand to ship greater volume of perishable to world destinations. Since several years, the 40' HC Reefer has predominantly become the new standard for shipping any commodity commodities.
to analyze transportation cost using these two ocean container sizes, the ocean freight for a 20' Reefer averages a range of 60-75% of a 40' HC Reefer. Still a cheaper option for the heavier commodities, but the inland transportation cost is not beneficial when transporting inland 1×20' versus the 40' containers. Shippers need to weigh the inland cost to figure what reefer container size is most likely cheaper. To that end, most carriers do not use to the same degree the 20' reefer ocean containers, which is an added factor successfully ship your commodity.
Cargo Insurance
Any customer is entitled to purchase cargo insurance coverage through ETC Intl. Freight System. The types of insurances available to commercial and private parties are:
All Risk (including War Risk) via Air, Ocean and Truck
FPA (Total Loss/Catastrophic) Coverage
Please note that upon choosing your cargo insurance, you hereby accept and will adhere to the underwriter's terms and conditions.