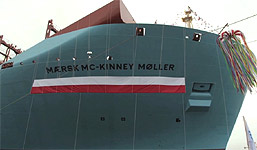 Geoje Island, South Korea, is an area known for its beautiful rolling hills and spring blossoms; a favorite getaway for tourists and hikers from around the world.
But it is also home to one of the world's largest shipyards, constructing tankers and military submarines… and now, the first in a series of Mærsk Triple E-class container shipping vessels, the Mærsk Mc-Kinney Møller. In the hills of Ogpo Bay, 900-metric ton-capacity Goliath cranes and giant offshore platforms compete in size with what will be the biggest cargo ship ever to traverse the high seas, entering the Asia-Europe trade via maiden voyage from the Port of Busan on July 14th.
The ship will immediately set new standards in the Asia-Europe container shipping industry.
The Mærsk Mc-Kinney Møller
The Mærsk Mc-Kinney Møller will change the dynamics of the Asia-Europe shipping business, not just for size, but also for energy efficiency and environmental performance. The vessel's unique design features allow for slower speeds and maximum efficiency, while emitting 50% less CO2 per container moved than the current average on the Asia-Europe route.
Mærsk's decision to build the Triple E in South Korea was an important boost for a domestic shipbuilding industry that has been crucial to the development of the economy since World War II, but is now suffering from the global economic downturn, rising labor costs and stiff competition.
The Mærsk Mc-Kinney Møller is being constructed at Daewoo Shipbuilding & Marine Engineering, one of the world's biggest shipbuilders, and workers are taking personal pride in building such a globally-significant ship.
China last year became the world's leading shipbuilding nation as total exports plummeted some 30% year-over-year to $37.8 billion, according to the Korea International Trade Association.
Some additional facts about South Korea's position to date in the shipping industry:
The combined debt of South Korea's 7 largest shipyards increased 44% in 2012 as yards borrowed to cover losses.
Shipbuilding exports were also down 45% year-over-year in April 2013 and the long-term prognosis is poor.
The latest forecasts from shipping association Bimco suggest global shipyards will suffer from a major overcapacity gap for at least the next seven years.
South Korea has gradually shifted its economy to reduce reliance on the shipbuilding industry by establishing itself as one of the world's largest producers of electronics, automobiles and high-tech consumer products. But with South Korea bursting into the Asia-Europe trade via the Mærsk Mc-Kinney Møller Triple E ship, Japanese investment bank Nomura predicts South Korean GDP growth of 2.7% in 2013, and Mærsk Korea president Thomas Lindy Sorensen expects full-year volume growth in the country of 3 to 4%.
South Korea is opening its economy to competition by negotiating a string of free trade agreements (FTAs) which are expected to eliminate duties on some 95% of bilateral trade within 5 years, and most other tariffs within 10 years.
Hanjin Shipping's container business unit chief executive Young-Kyu Song indicates that South Korean trade is already experiencing the benefits of the U.S.-South Korea FTA:
In the 6 years leading up to the Agreement, trade grew at a steady 4 to 8% per year.
Since the agreement took effect, U.S. imports to and exports from South Korea have jumped 12.7 and 7.6%, respectively.
"Cargo volume transported to the U.S. in 2012 was much larger than the average volume from 2005 to 2011," according to Song.
South Korea's other major shipping line, Hyundai Merchant Marine, concurs with this assessment, indicating that "There is no doubt the FTA has had a positive effect on the shipping industry in terms of demand. We're seeing an increase in trade volume benefiting from this program, including machinery, auto parts, fabrics and plastic products."
The maiden voyage of the magnificent Mærsk Mc-Kinney Møller container ship will herald a new generation of Tiple E Class cargo vessels that will transform the Asia-Europe container shipping industry.
As included in the spoken words by Ane Mærsk Mc-Kinney Uggla, (daughter of late owner Mærsk Mc-Kinney Møller), during the traditional ship naming ceremony for this first of the Triple-E series of ships, "…may you bring pride and prosperity to all."
Overseas Container Shipping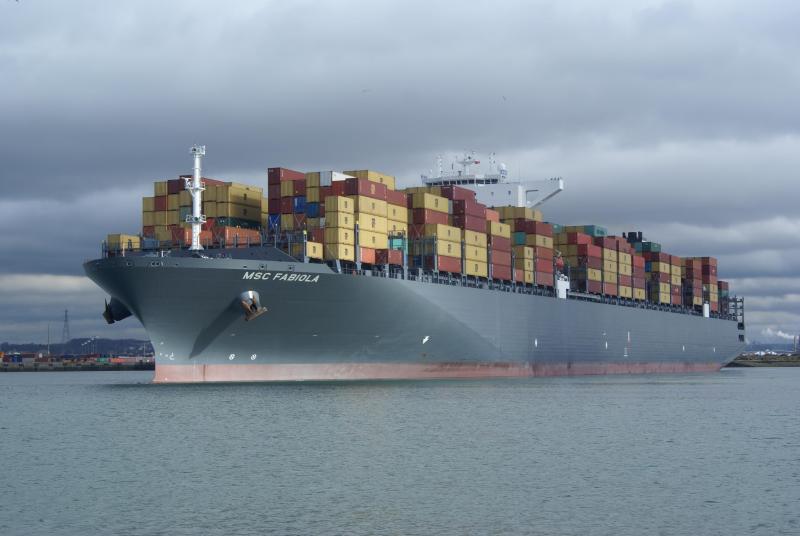 At ETC International, our overseas container shipping network has been serving companies in need of commercial and industrial cargo transport, both domestic and international, since 1984. With nearly 30 years experience in ocean container transport, we have an expert understanding of all the ins-and-outs of commercial shipping. As a result, we are able to provide invaluable information to our commercial clients to help them make the most of their shipping dollars.
We are happy to start by providing a no-cost, hassle-free rate quote on overseas container shipping for manufacturers, retailers and wholesalers. Next, we can discuss additional considerations of the cargo shipping process, so your business can start shipping merchandise and industrial goods to paying customers right away!