Trans-Pacific Freight Rates
Here we go again, the start of the annual battle between shippers and carriers over trans-Pacific contract freight rates. Both sides are poring over economic data to figure out whether demand will increase enough to absorb all the new vessel capacity coming down the runways, or whether that new capacity will threaten the freight rate increases carriers propose.
Carriers say they'll be able to limit the influx of capacity enough to support the contract freight rate increases they deem necessary to support their liner services. Shippers, however, aren't swallowing the early signals about the size of those increases. They don't think demand on the eastbound trans-Pacific will be strong enough to absorb all that capacity.
Although research analyst Alphaliner has cut its forecast for growth of the global container fleet to 8 percent this year, U.S. economic growth may not be strong enough to absorb the excess capacity expected to cascade onto the trans-Pacific. 
Journal of Commerce economist Mario Moreno thinks the uncertainties hanging over the U.S. economy will continue to depress consumer demand for goods imported from Asia. He expects minimal growth in eastbound trans-Pacific volume of 0.5 percent this year, to 12.6 million fully loaded 20-foot-equivalent container units, only slightly higher than 2012 growth of 0.3 percent.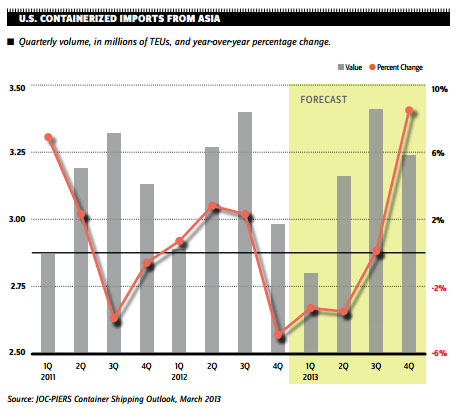 Negotiations for new annual freight contracts in the trans-Pacific are in the early stages, and will get down to serious business at this week's annual TPM Conference in Long Beach, where shippers will listen to what their colleagues say and carriers tell them why they need rate increases. The annual contracts generally start on May 1, but some have been pushed to June 1 in recent years.
The negotiations are confidential, so shippers are reluctant to disclose their negotiating positions. One large shipper, however, said he expects little or no increase in contract freight rates this year. His company's rates are the same now as they were in 2010. "There have been some peaks, but the end points are about the same," he said. 
He arrives at his negotiating position by looking at an array of recent estimates of vessel supply and demand in the eastbound trans-Pacific. "We average them out and come up with a 4.2 percent increase in demand and a 3.8 increase in supply," he said. "So, according to these numbers, demand may slightly outweigh supply, but that doesn't take into consideration starting capacity overhang, or shortage."
Carriers need the increases they're seeking, he said, "but at the end of the day, we are looking at a flat to just a small increase of $100 per TEU or $200 per FEU. That's probably a comfortable position to start with."
Liner companies, of course, don't see it that way. "There are a couple of things happening in the market that would indicate further rate increases," said Timothy O'Connell, senior director for trade and marketing at Maersk Line in the U.S. "One is the investment that's required to deliver the reliability and frequency of service customers expect," he said. 
Carriers, O'Connell said, were able to exert enough discipline last year to keep spot rates "fairly high." But he said contract rates stayed low, "so I think in 2013 those rates will come up. They have to come up to allow us to get an adequate return." 
Complete coverage of trans-Pacific maritime trade
The wild card that could upset any balance between supply and demand in the trade is all the new vessel capacity due for delivery this year. These deliveries include more than 40 ultra-large container ships with capacities of 10,000 TEUs or more slated for deployment in the Asia-Europe trade. Among those scheduled deliveries are the first two of Maersk Line's 18,000-TEU Triple E ships. Vessels of this size will force carriers to cascade older ships onto their trans-Pacific loops, adding an influx of capacity. Some of these ships are massive, such as:
the three 16,000-TEU ships CMA CGM is adding in the Asia-Europe trade, and
two 13,000-TEU vessels that Mediterranean Shipping Co. has added to the Pearl River Express service linking China and Southern California.
Will the carriers be able to manage capacity enough to sustain freight rates? "That's the $64,000 question," said Neil Dekker, head of container research at Drewry Shipping Consultants in London. "If they get it wrong, the spot rates could come off significantly. If they get it right, they can keep some sort of stability in the rates."
Some carriers will play it down to the wire, choosing to see what the spot rates are in March and April, because that may determine where the contracts will be. That, of course, depends on how much capacity comes back into the market and what the load factors are. If there is weakness, shippers will be in a better position in rate negotiations.
Carriers have held on to most of the increases that kicked in on Jan. 15, when they got about half of the $600 per 40-foot-equivalent unit increase recommended by the Transpacific Stabilization Agreement. Eastbound trans-Pacific spot rates stood at $2,536 per FEU on Feb. 20, unchanged from the previous week, but $322 or 14.5 percent higher than the beginning of the year, according to the Drewry Hong Kong-Los Angeles Container Rate Benchmark.
A second test of how well carriers are managing capacity will come on April 1, when TSA carriers will put into effect an increase of $400 per FEU for shipments to the West Coast. If that rate increase doesn't hold up, it's likely to put a cap on annual contract increases, because spot rates have had an impact on contract rates in recent years.
Carriers may be able to achieve stability by "a mixture of careful planning, possibly some layups at a more significant level, void sailings and a bit of extra slow-steaming and generally being creative on the deployment front and by changing the structure of some of their strings," Dekker said.
Carriers already trimmed some capacity during the run-up to last month's Chinese New Year by:
suspending some services
skipping some port calls
whittling down on the amount of new capacity due for delivery later this year through cancellations, deferrals and scrapping, prompting Alphaliner to cut its forecast for fleet growth this year to 8 percent from 9 percent.
But unless global demand picks up more than expected, there will be too much capacity cascading onto the trans-Pacific. "The U.S. economy is still struggling to speed up growth, with consumer spending adversely impacted by the 2 percent increase in payroll taxes," Moreno said. As a result, the seasonally adjusted retail inventory-to-sales ratio has been stuck at 1.38 for the last three months of 2012, up from 1.35 in the 2010-11 period. The late-2012 increase may imply a weak post-Christmas restocking period. Moreno is forecasting 2013 GDP growth of 1.9 percent, following a 2.2 percent growth last year.
"All carriers know they have an overcapacity problem, and that problem is only going to get worse in 2013," said Lars Jensen, CEO and co-founder of Copenhagen-based SeaIntel Maritime Analysis. "It's going to be particularly acute on the Asia-Europe route, and it's going to have a spillover effect on the trans-Pacific as they cascade vessels. This means the carriers also know that the only key to profitability in 2013 is to keep capacity in check, not to inject too much, and to maintain pricing discipline. They all know this."
One significant development that could absorb some of the capacity coming into the trans-Pacific is the shift in all-water services from Asia to the U.S. East Coast from the route through the Panama Canal, where their ships are limited to Panamax sizes of around 5,000 TEUs, to the Suez Canal, where they can deploy post-Panamax ships and more of them.
Maersk, for example, plans to deploy a new service in April from Ningbo in North China to the U.S. East Coast via the Suez Canal that will replace the existing TP-7 Asia-East Coast service via Panama that employs 10 Panamax ships of 4,500 to 5,100 TEUs. The TP-7 service will be merged with the suspended AE9 Asia-Europe service and deploy 11 post-Panamax vessels in a pendulum service linking China, South Korea and Japan to the U.S. East Coast ports of Savannah, Charleston and Miami. 
"That's one way to eat up those ships," O'Connell said. "That allows us to take the ships from the AE9 away from Europe, where demand is up and down, and get the economies of scale to the East Coast and take out those Panamax ships." He said Maersk and other carriers also have more opportunities to slow-steam their ships, which would absorb more capacity.
Maersk also plans to cancel more than 25 sailings by vessels in its trans-Pacific service during the weeks following the Chinese New Year and well into March. Other carriers plan similar, so-called blank sailings. "The lines have gotten better at matching supply and demand, to a degree, although it's not perfect yet," O'Connell said. "This is one of the lessons learned coming out of the crisis, that we just can't keep doing these things."
SeaIntel's Jensen expects carriers to be highly disciplined coming out of the Chinese New Year holiday to get the rates up where they need them to be. "They cannot afford to have the kind of losses they sustained in 2011 but also what they were looking at in 2012 when the discipline disappeared."
But he warned that if carriers get the increase in spot rates they're seeking, they might inject more capacity back in the trade to take advantage of higher rates, as they did in 2012. "As soon as rates become attractive to carriers, they will be tempted, not necessarily to launch new services, but to go for higher utilization on the vessels they already deploy by cutting rates," Jensen said.  
If carriers do this, 2013 will be a repeat of 2012. "So we will see a see-saw movement, with rates increasing sharply, but at times also decreasing sharply," he said, "making for a very volatile environment on the trans-Pacific."  
Contact Peter T. Leach at pleach@joc.com and follow him at twitter.com/petertleach.
Get a free, no-hassle quote on current ocean freight rates:
Maritime News›Trade Lanes›Trans-Pacific